Posted by admin at 2 November 2013, at 21 : 59 PM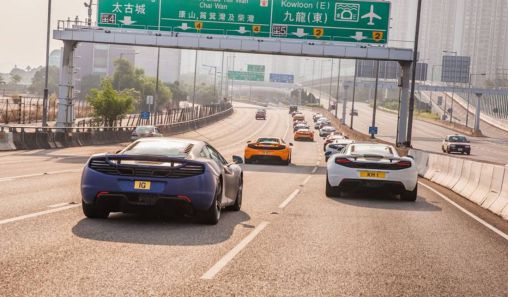 The original celebration of the McLaren 50th Anniversary was two months ago. Less than a week ago, McLaren fans decided to make their own celebration with a big meeting in Hong Kong. In total there were 40 McLaren cars out there.
Normally to see a McLaren on a public road is a rare moment. Well, at least it's a rare moment most of the time for many people, because some people might see it more often. Also, that is for sure that to see 40 McLaren cars on a public road is a rare moment for most people. Since the McLaren 50th Anniversary is a rare moment as well, you obviously get to see something rare because of it.
All 40 McLaren cars drove from Tsim Sha Tsui and finished in Shatin at the Hyatt Regency. To anyone who saw these cars that day, probably it was one of the greatest things seen in their lives, because it was truly a special moment.
Not long ago, Ferrari 30th anniversary was hosted in Hong Kong as well, and it was another great celebration. With this recent McLaren 50th Anniversary celebration and Ferrari 30th anniversary celebration, Hong Kong probably got a lot of attention from supercar fans from all around the world.
We are sure that in the future we're going to see more great celebrations like those in Hong Kong. Hong Kong is a great place for such celebrations. Hong Kong is also a place where you can see a lot of supercars driving on public roads every day. Obviously don't expect to see anything similar as the McLaren 50th Anniversary celebration had, because it isn't happening on regular days, but you can see some nice supercars from time to time.