Posted by admin at 28 August 2014, at 21 : 12 PM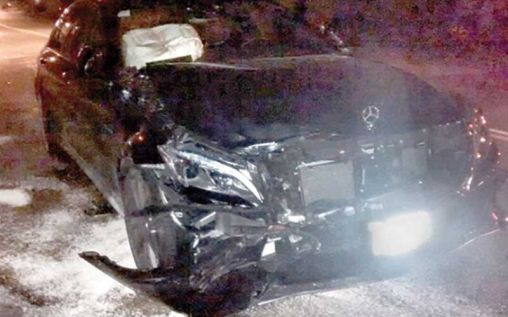 Last Saturday night, two luxury cars crashed in West Vancouver, causing the estimated total damage of 200,000 USD ($) for both cars.
The Mercedes-Benz S63 & Audi R8 crash happened because of the Mercedes driver's fault. According to witnesses, the Mercedes was speeding and passing other vehicles, then lost control and rear-ended the Audi.
The Mercedes-Benz driver, a 48-year-old man, received an immediate 24-hour roadside suspension of his licence, plus another 30-day administrative driving prohibition.
Inside the Mercedes, there were two boys on the back seat, aged nine and five. Both boys were fine after the crash and didn't need to go to hospital.
The R8's passenger was taken to the ER after she complained of neck pain.
No other injuries were reported.
Now when you look at the pictures, you may wonder why the damage is so high. It doesn't look too bad from the pictures, but those cars are freakishly expensive to repair. However, even by knowing how expensive it's to repair those cars, it's still hard to believe that it could cost so much. The Mercedes costs at around $140,000 (MSRP for a 2014 model), and the most damage is to it (at least what I can see from the pictures). Even a 2014 Audi R8 costs at around $114,900 – $179,645 (MSRP).
Well, I didn't calculate the damage by myself, but it looks ridiculously high to me. Also, I don't think that both cars involved in this accident are 2014 models, so both cars are even less expensive than my given MSRP above.