Posted by admin at 28 May 2013, at 19 : 31 PM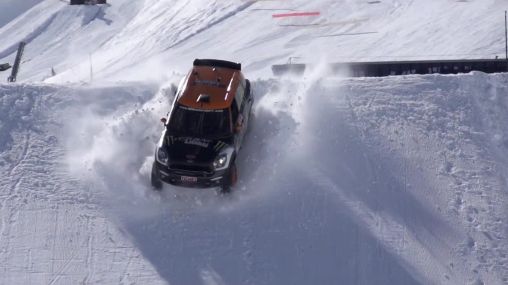 Car stunts always look good when they're done correctly, or when some crazy stuntmen are trying to do some crazy stunts with automobiles. In many movies you can see car chases or crashes and these are done with a help of stuntmen. This is a dangerous profession, but sure it is exciting, and it brings a lot of excitement for viewers.
Below you can see 5 of the most craziest and at the same time amazing car stunts. These all car stunts were made in the last five years.
The number 1 would be a world record of distance jump with a car at the Indianapolis 500 on May 29th, 2011. A driver from Hot Wheels managed to "fly" 332 feet through the air with a yellow four-wheel drive automobile. It was an amazing jump and amazing achievement. The driver actually managed to land the car on the platform almost perfectly without losing control of the car too much. He succeeded just perfectly and made a new world record.
The number 2 would be a backflip with a car. In 2007, Rhys Millen attempted to make this stunt, but he wasn't very lucky at that time and got hurt during the stunt. After one year, in 2008, he tried to do it again. This time, he achieved his goal, and he managed to make that backflip, but the landing was not good, and he wrecked the car. This time, only the car was wrecked, and the driver was fine, and he didn't get hurt. The stunt, however, was looking pretty nice.
The number 3 would be another backflip with a car, just this time it was done in the Alps. Guerlain Chicherit has managed to make a backflip with a car in the Alps. He not just managed to make it in the air, but he also landed on snow almost perfectly. It was a very good backflip, and it was a good landing too. He was also the first man ever who managed successfully to make a backflip with a car in the air.
The number 4 would be a 269 feet jump with a rally car. Travis Pastrana has managed to successfully make that jump, but after landing, he lost control of the car, and while sliding, he hit a sidewall with his car. However, the car wasn't damaged badly, and the driver was fine. After the jump, he left the car and started to celebrate immediately.
The number 5 would be a crazy driving of Ken Block at San Francisco. He did all kind of crazy stunt moves including drifting, jumps, and all kind of crazy things that most regular people shouldn't be doing with cars.