Posted by admin at 6 August 2013, at 23 : 57 PM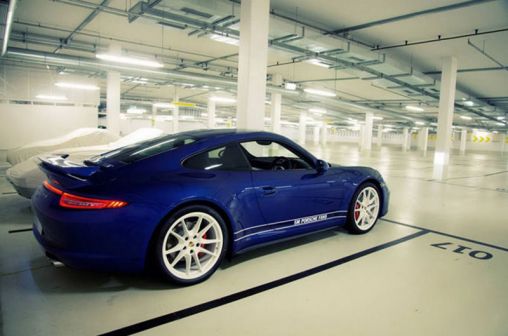 A new custom made Porsche 911 Carrera 4S was unveiled after hitting 5 million fans on Facebook. Recently, the German automaker hit this amount of likes on Facebook for its fan page, and because of that this new gorgeous automobile was made.
The design idea of the new model was created by the fans. 54,000 Facebook users voted for their ideal design of the new Porsche 911. Because of reaching 5 million Facebook fans, the Porsche made that design to become reality.
The new Porsche 911 Carrera 4S features 20 inch wheels with rims painted in white. A unique Aquablaumetallic paint shade can be found on the exterior. A new rear lid with a fixed spoiler, front lip spoiler, and a new front apron. On the doors you can find custom made decals with the words "5 Million Porsche Fans".
The Porsche not the first time has released a new car model because of increased Facebook fans. They did a similar thing before. A special Cayman S model was released, because they got 2 million fans on their Facebook page. Now, we might expect a new special model once they reach more fans. The next time might be once they reach 10 million fans, but it's just a speculation and there are no guarantees of it.
The new Porsche 911 Carrera 4S definitely looks nice. Blue color exterior was a good choice for the car. The color fits the car nicely.
The interior of the car looks the same if not better than the exterior's design. A steering wheel is on the right side, and you can try this car at the Porsche experience center, in Silverstone circuit. As you may know, cars in Great Britain come with the steering wheel on the right side, so that's why this new model has a steering wheel on that side. If you prefer it to be on the left side, well, we have to disappoint you, because this car is available only with a steering wheel on the right side.
If you're curious about an engine of this new Porsche 911 Carrera 4S, well, it's the same engine as in all base models. No modifications to the engine. All modifications are for the looks only.
The Porsche also opened a new contest to celebrate this new model and 5 million Facebook fans. You can participate in that contest on Facebook, and you can win a unique trip to Silverstone. The contest is still open, and it ends in 12 days. For more information about it, visit the Porsche's Facebook fan page.