Posted by admin at 24 May 2013, at 19 : 38 PM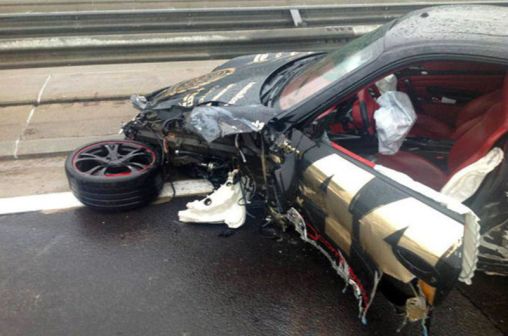 In this year's Gumball 3000 international road rally, the third victim becomes this beautiful Porsche 997 Turbo. It is a 997 series Porsche 911 Turbo model. After the crash, the car doesn't look that beautiful anymore, and probably it was the last drive for it, or at least definitely the last drive in this year's Gumball 3000 rally tour. Well, at least it was looking good before the crash. The good part is that the people who drove this car are fine. The car obviously needs some serious repairs if it wants to drive again like it used to.
The Porsche 997 Turbo is not the only one that suffered a crash in this year's Gumball 3000 event. The very first crash and the very first victim was a Lamborghini Murcielago LP670-4 Superveloce. This Lamborghini crashed in Sweden, and it was the first one of all three victims of this year's event. Only 186 units are made of this Lamborghini Murcielago LP670-4 Superveloce, and it's a rare car. Sure, the damage was little smaller to this Lamborghini compared to the Porsche 997 Turbo damage, but still it needs some serious repairs too, and it will cost a lot of money.
The second crash was made with a supercar Ferrari 458 Italia. This Italian supercar crashed in Latvia. As you can see from a picture below, it is wrecked badly. From the picture, it looks like the damage was close to the 997 series Porsche 911 Turbo damage, but repairing it should cost a lot of more money than for the Porsche.
The first two accidents happened due to bad weather. The road was wet and slippy, and as you know, it's not that hard to lose control with a supercar on a slippy road if you push your car little too hard. It was even snowing near Villach which is one of the cities in Austria. That kind of weather is very unusual for this time of the year. At least, no accidents happened during that kind of weather.
The Gumball 3000 is a 3000 miles (~4828 km) rally event. It is a long distance to drive and with all those powerful supercars, it's not that hard to make a crash at some point. Still, it's not a big number of wrecked cars, because the total number of participating cars was 100. Besides all these crashes, it was a great tour, and it was the 15th anniversary of these Gumball 3000 tours.