Posted by admin at 12 September 2014, at 21 : 26 PM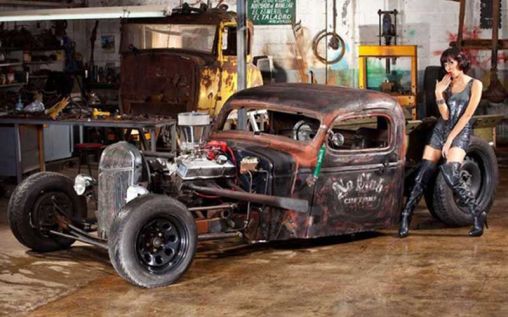 The time has come for your to decide what will make your Rat Rod move, and while doing this, keep in mind a couple of basic things. Will this be driven on a regular basis or is this a bar hopper/track car? Will it have a mild Flathead Ford or a Blown Big Block Chevy?
First things first. Let's choose an engine that will suit our Rat Rod's needs.
The obvious easy engine is either a small block Chevy or small block Ford. Chevys are readily available and commonly used since there were so many of them made and they are by far the cheapest. Fords are a close second, but there are just so many parts available for a small block Chevy, you'd almost be a fool to use something else, especially a rookie.
Ok. So, now you really have to ask yourself, do I want to shift this Rat Rod or do I want the Rat Rod to shift itself?
Automatic transmissions are the easiest to setup and install. No extra pedals, linkages and reservoirs. But would you miss that feeling of shifting gears? You can make an automatic a semi-auto and shift without a clutch! do your self a favor and keep your Manufacturer's engine and transmission the same. Unless you are using a stick, then you will have many different brands, and most will be different than the big three companies.
When dealing with the rear end, the choices are much simpler.
Most Rat Rods use a solid axle. Very readily available, parts are inexpensive and less moving parts, not to mention all of the axles are internal. Independent rear ends are more expensive and normally used on big dollar Hot Rods. Ford nine inch rears or 10 and 12 bolt GM rears are the easiest and most common.
Choose your mounts wisely. As solid motor mounts transmit all of power, and lose little since there is no rubber isolation, the vibration will get to you on a long trip. Have a quality driveshaft made. Steel is fine, unless you are running big horsepower in your Rat Rod's engine. Make sure the motor and trans stays cool and provide plenty of air circulation for all fluid moving parts. The cooler the running gear, the faster it will run, and the longer it will last!