Posted by admin at 7 July 2015, at 10 : 43 AM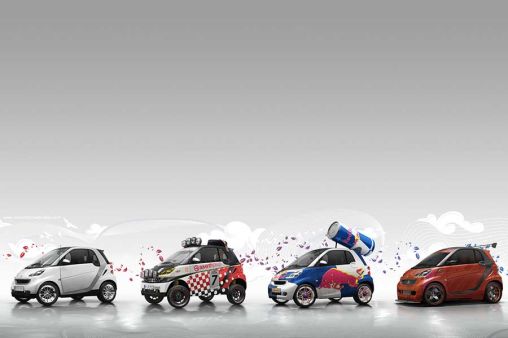 Smart is a city car with a good gas mileage. The Smart car is produced by DaimlerChrysler.
The logo of the Smart car is the letter C with an arrow, C stands for "Compact", while the arrow is a sign of the company's "forward thinking". The original idea for creating this vehicle was to make something small, hence easy to park in the busy city streets.
The Smart is definitely a city car. It's so short that it can fit almost everywhere. Its length is 2.5 metres, so two Smart cars take the same space as a regular four-passenger sedan. Initially, the idea was developed by the Swiss watch manufacturers Swatch, so they called it the "Swatchmobile". The name SMART stands for Swatch Mercedes ART.
When the car was designed, engineers were planning to use a hybrid engine and to make it affordable to the youth. Not all went as planned. Big investments had to be made, and technology employed for creating the engine turned out to cost more than for small 4-5 seater cars produced in Europe. Due to that, the joint partnership between Swatch and Daimler-Benz experienced some big losses and Swatch had to pull out, as they were no longer able to take those losses. Quite shockingly, it was revealed that the entire Smart project cost nearly 4 billion euros of losses only between 2003 and 2006.
Smart comes in four different models – Fortwo, Forfour, Roadster, Smart EV. Currently, Smart cars are imported in the USA by the The Defiance Company LLC, and distributed to dealers affiliated with Mercedes. In 2008, DaimlerChrysler started selling Smart cars through a company called UnitedAuto Group. At the beginning, only an updated Fortwo was offered at a starting price of $12,000.
Perhaps the problem with the Smart car is that its price is too high for all the things it has to offer. The gas mileage of a Smart is just slightly better than other more spaceful fuel-efficient cars available on the market today. The main reason why people buy a Smart ForTwo is the gas mileage. The DaimlerChrysler company has estimated that the combined city/highway fuel mileage is about 40 miles per gallon. This diesel engine version is rated at 60 miles per gallon. Here is the thing – the Toyota Yaris which offers space for four people and costs thousands of dollars less, gets an EPA-estimated 37 miles per gallon.