Posted by admin at 9 November 2013, at 14 : 12 PM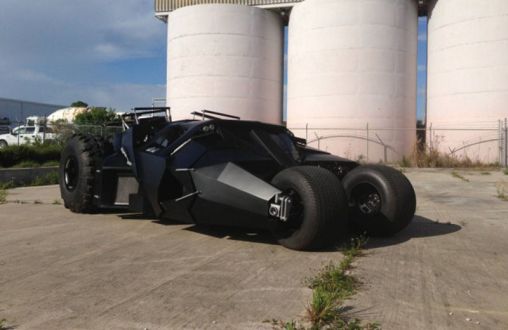 This insanely looking 2013 Batmobile Tumbler is a replica of the original Batmobile used in the movie Batman Begins. This crazy automobile is also for sale in Florida, USA. You can buy it for "just" 1,000,000 USD ($). Well, yes, this automobile is expensive. 🙂
The 2013 Batmobile Tumbler uses a General Motors LS1 8 cylinder petrol engine. So it suppose to be a 5.7-liter motor with approximately 310 hp. This car might produce more power, we can't say for sure. It also has a rear-wheel drive system and an automatic transmission. It features a custom built frame, chassis and drive line.
As the seller claims, this automobile is street legal, but this vehicle is not a daily driver. Also, it is a limited edition of only 5 units worldwide.
The car has 5 driver assist cameras, GPS Navigation worldwide, CD/DVD, Ipod integration for all of your entertainment needs, custom cut windows and Double den stereo with Bluetooth. It also has only 2 seats, it means you can't drive it with more than 2 people at the same time.
At the moment, this 2013 Batmobile Tumbler is the most interesting car on the market. After all, when you get a chance to buy a car like this? This car is very interesting by its looks, it just looks outstanding. It can blow away (by its looks) all supercars on a public road, and we can guarantee that the spotlight would be yours all the time.