Posted by admin at 27 September 2014, at 23 : 12 PM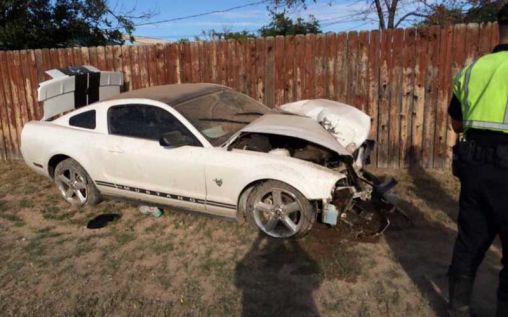 On Thursday afternoon, a teenage driver (a juvenile male) with two passengers (both juveniles) was driving a white Ford Mustang. The driver probably wanted to show his driving skills to his friends and was speeding a little too much; The driver crashed the Mustang.
After the accident, a police officer said, "The car veered off the roadway, ran over a speed limit sign and touched the fence".
One of the passengers sustained minor injuries. Two other teenagers, the driver and another passenger, didn't sustain any injuries.
No other cars were involved in the accident.
The accident happened at around 5:27 p.m.
We don't know how fast the Mustang was driving, but the front of the Mustang is damaged badly. It is hard to believe that a small speed limit sign could do so much damage. The Mustang probably was going really fast, because the car only hit the sign and barely touched the fence.