Posted by admin at 24 March 2013, at 12 : 48 PM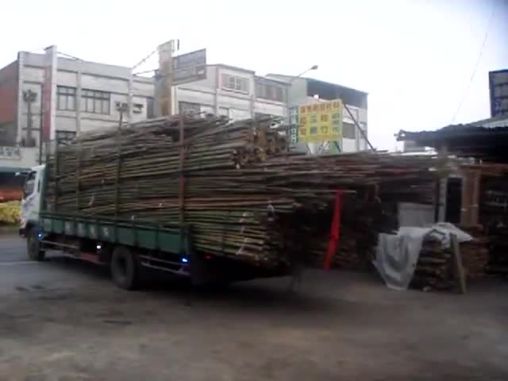 Not so long ago, we showed how a Ferrari 458 Spider got wrecked on a highway in Italy by a driver with "unlucky" driving skills, and you can see a video out there if you haven't seen it yet. Yet again, we are posting some another "crazy" video about how some people do kind of "crazy" things. Speaking of crazy video, you just must see how a super tank goes 500 km/h — check that too if you haven't seen it yet.
Now let's get back to our current video. A truck driver from Taiwan sure has some good imagination. He decided to unload 3 tons of bamboos in a quicker way and he managed to do that pretty quick. So he succeeded almost perfectly (at least this time).
Sure, probably, it's not the best way to do that, because like that you're breaking the truck and by watching a video below you will understand what I mean by breaking the truck.
Normally it would take a lot of time to unload all these bamboos by using just human hands, so maybe that "breaking the truck" pays off anyways.
This is not the first video like this on YouTube. There are more videos like this from some time ago, it means that this driver is not the only one who has some good ideas, or maybe it's the same driver in other videos as well. Or maybe it's just a usual unloading stuff out there and many drivers do this, because it saves a lot of time. Either way, it sure makes some regular unloading work be little more exciting than usual.
Check out the video below, and see by yourself how he really did that.
EDIT 2015-01-15: unfortunately, video has been removed from YouTube.