Posted by admin at 9 December 2014, at 21 : 23 PM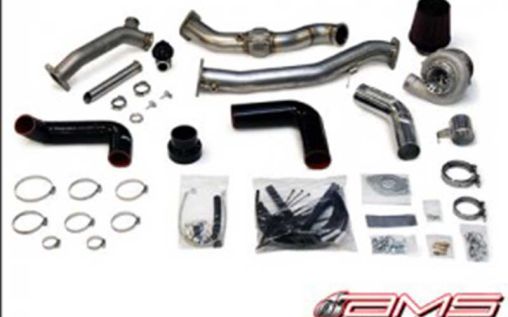 The stock turbo on the Subaru WRX STi is small. In fact it is tiny and overworked. But AMS has the solution for that. The WRX turbo upgrade from AMS features a rotated mount turbo kit. This kit can be configured with a couple of different sized turbos depending on what you are looking for. You can get a street, race, or drag turbo upgrade kit for your Subaru WRX and STi from AMS. And this awesome turbo kit retails for about $3750!
The AMS WRX upgrade kit features a Garrett Ball Bearing turbo that can be ordered with a .63, .82, or 1.06 a/r sized turbo. The kit fits like OEM and comes complete with a 3" Intake pipe and a stainless steel up-pipe.
You only loose about 150-250 worth of RPM range, but the turbo hits harder producing up to 750 horsepower depending on the application. With just a few aftermarket parts including an intercooler, fuel components, and exhaust upgrades; this WRX Turbo Upgrade kit can put down some serious horsepower. How does 500 sound for your first or second generation Subaru WRX and STi?
The kit comes complete with the following parts:
• 2" ID rotated V-band cast stainless steel up-pipe for optimum flow and durability.
• 5/8" thick flange on up-pipe to ensure a proper seal.
• Turbo support bracket maintains turbo kit reliability under any condition.
• 304 stainless steel TIG welded construction.
• Lifetime Limited Warranty on the up-pipe.
• True Garrett Dual Ball Bearing GT series turbo with ported shroud compressor covers to prevent compressor surge.
• Precision Turbo Stainless Steel V-band exhaust housing with choice of .63, .82 a/r ratios.
• Your choice of a genuine Tial 44mm or 38mm V-band wastegate to ensure proper boost control.
• Wastegate feed strategically placed on the Up-pipe for precise boost control.
• 10" stainless steel external wastegate dump tube.
• No gaskets needed for the turbo to up-pipe, up-pipe to wastegate or turbo to downpipe.
• Your choice of true 3" cold air intake pipes to suit a pull through or 3" blow through mass air flow sensor intake pipe.
• Bolts up to any stock or aftermarket header that fits the factory up-pipe.
• Downpipe fits AMS & most other aftermarket cat-back exhausts.
• Kit Utilizes 4 ply silicone tested up to 50 psi of boost!
• New coolant lines for your coolant expansion tank for a clean engine bay.
• DEI heat insulation to protect OEM wiring from excessive heat.
• Kit includes ALL necessary fittings and hardware for installation.
• Class 10.9 fasteners & 4 ply silicon couplers.