Posted by admin at 2 June 2013, at 21 : 55 PM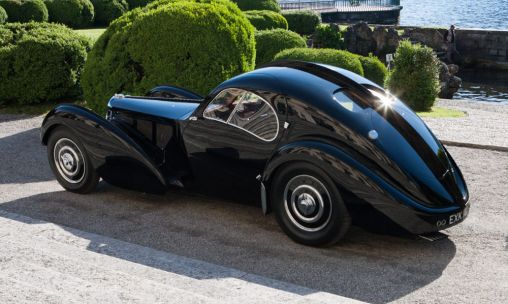 Would you like to have a car that is worth almost 40,000,000 USD ($)? Would you buy such an expensive car? (these questions would be for millionaires)
The 1938 Bugatti Type 57SC Atlantic is the most prestigious car in the world. Only 4 units were ever made and only 2 left in this world. This rare automobile is worth almost 40 million USD ($). For such amount of money you can buy more than fifteen 2013 Bugatti Veyron 16.4 Grand Sport Vitesse models or more than one hundred 2013 Ferrari 458 Italia models.
Sure this car is worth ridiculous amount of money, and some people would think that it's a nonsense to make such a price for a car. The price actually will rise even more in the future. The older it gets – the bigger price will be. Just the question would be, for how long this car is going to last, because it's quite old already and nothing lasts forever. Another decade for this car could add maybe even another 10 million USD ($) on the current price. Isn't that would be even more shocking price of 50 million USD ($) for a car? I think it would be!
The 1938 Bugatti Type 57SC Atlantic is powered by a 3.3-liter (3,257 cc) DOHC Inline 8 engine that produces up to 200 hp (150 kW). It can reach a top speed of 120 mph (190 km/h). Obviously, these numbers at this point are just original numbers, and this car can't reach these numbers now because of its age, and it wouldn't be smart to push this car to the limit to actually see if it still has something similar to these numbers. However, this car is more like exhibit anyways, instead of a car for a spin.
Maybe you are curious who is the owner of this treasure chest on wheels? The owner is a multimillionaire, Ralph Lauren. This person is an American fashion designer and business executive. In 2012, Forbes magazine estimated his wealth at 6.5 billion US dollars and that makes him the 162nd richest person in the world.
Ralph Lauren has an automobile collection of some of the most expensive cars in the world. The whole collection contains over 70 automobiles, and some of them are really rare. He owns three 1996 McLaren F1s (one is very rare F1 LM model). Besides these 3 McLarens, he owns two Ferrari 250 Testa Rossas, a 1962 Ferrari 250 GTO, a 1929 Blower Bentley, a Mercedes 300SL Gullwing, a 1930 Mercedes-Benz CountTrossi SSK aka "The Black Prince", a Bugatti Veyron, a Porsche 997 GT3 RS, a 1938 Alfa Romeo 8C 2900B Mille Miglia, a Lamborghini Reventon, a rare Lamborghini Reventon Roadster, and more…