Posted by admin at 14 March 2016, at 20 : 30 PM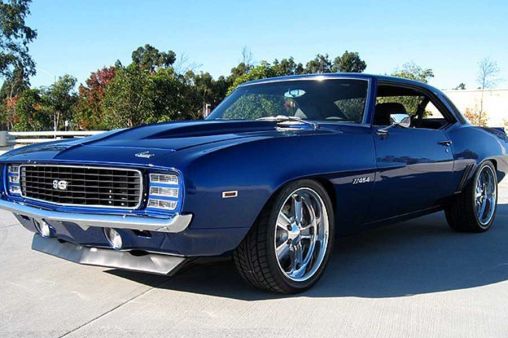 [CLICK-> 1969 Chevy Camaro project car full story [PART-4] is here <-CLICK]
Interior:
The goal of the interior was to have some solid upgrades here and there while still maintaining some of that nostalgic look. A combination of modern and classic. First and foremost, I wanted to upgrade the front seats to something more supportive and make sure the front and rears had matching leather and patterns. A close second in priority was the dash cluster. The original dash and gauge cluster for a '69 is kinda ugly. The big 'thing' in the middle between the speedo and clock just kills it. The Detroit Speed dash/guage carrier fixes this problem and allows for a much larger tach and speedo which I think improves the look dramatically (that's just my personal opinion). Plus I like the fact that it's metal instead of plastic like the Covan stuff.
Other improvements include:
1. Customized center console with some custom metal plates for the shifter and a custom arm rest.
2. Removed the grab handle, plastic plate, and plastic Camaro emblem from the passenger-side dash. Filled the mount holes, smoothed, painted, and then placed a chrome metal Camaro emblem on the right.
3. I have one of the very rare fold down rear seats so I had to clean things up when it's folded down. I added a custom partition trunk partition. The partition has an opening with a speaker grill to allow the subwoofer to better penetrate the cabin.
4. Custom ordered a nicer carpet from ACC.
5. Added some billet aluminum/chrome pieces (steering wheel, door and window handles, rear view mirror, locks, cig lighter, gas and brake pedals).
6. Removed the ash tray and mounted a Transmission temperature gauge there.
7. Lined the trunk, floor pans, rear seat/trunk partition, and firewall with B-Quiet Ultimate Sound Dampener. Same stuff as Dynamat except not so overpriced.
8. Morrison 3 point safety belts for front seats.
All the parts used to rebuild the interior are listed below:
Front Leather Seats + brackets + shipping — $735
Rear Seat Covers, patterning fee, shipping — $437
Rear Seat Covers installed w/ new foam — $225
Carpet, Custom ordered cut-pile from ACC — $221
Floor Mats – Blue SS logo, 4 pieces — $120
Door Panels, front & rear — $280
Interior Door Jamb Windlace Molding — $66
Front Seat Belts – Morrison 3 point — $280
Rear Seat Belts — $155
Headliner, Visors, Sail panels — $130
Firewall Insulation Padding — $34
Firewall Carpet Guard Fasteners — didn't fit, returned
Steering Column to Floor rubber boot — $14
B-Quiet Ultimate Dampener, roller — $225
Foil tape for B-Quiet mat seams — $7
Pedal Covers (Automatic kit + Dead Pedal) — $158
Steering Wheel — $140
Steering Wheel installation kit — $50
Billet Polished Turn Signal, Tilt, and emergeny lever — $30
Metal Dash Insert — $570
Gauges, Autometer Carbon Fiber Ultra Lite
*Oil Pressure, 2-1/16" Short Sweep Electr — $64
*Water Temp, 2-1/16" Short Sweep Electr — $50
*Fuel Level, 2-1/16" Short Sweep Electrical — $44
*Voltmeter, 2-1/16″ Short Sweep Electrical — $45
Speedometer, 5″ Electrical, 160MPH — $240
*LCD Odometer with trip function
Tachometer, 5″ 10,000-RPM — $160
AutoMeter Electronic Speedo Sending Unit — $63
L.E.D. Indicator Set — $30
Outer Weatherstrip kit — $58
Roof Rail weatherstrip clip set — $14
Door Jamb Rubber — $17
Quarter Window Vertical Weatherstrip — $25
Quarter Window Chrome Moldings — $70
Firewall Cowl Rubber Seal Kit — $20
Roof Rail Weatherstrip Retainers — $175
Door Weatherstrip set – Premium Latex — $86
Roof Rail Weatherstrip set – Premium Latex — $86
Dome Light housing(chrome frame) — $9
Dome Lamp Bulb — $2
Ash Tray light bulb — $2
Camaro' emblem for above glove box — $20
Cigarette Lighter Housing — $10
Heater Hose bracket kit — $9
Heater Hose kit, Big Block — $17
Heater Blower Motor Resistor — $7
Door Jamb Switch(RH) — $2
Door Jamb Switch(LH) — $4
Accelerator Pedal Busing Set — $4
Accelerator Throttle Rod — $30
Accelerator Rod Grommet and Sleeve — $4
Park Brake Cable Retainer — $2
Billet Cigarette Lighter — $15
Door Sill plates — $35
Heater Control Switch Knobs — $8
Floor Pan Plugs — $12
Lower Door panel mounting screws — $3
Inner Door Panel Retainer/Guide – Rear — $26
Inner Door Panel Retainer/Guide – Front — $26
Interior Door Handles – Billet Aluminum — $30
Window Cranks – Billet Aluminum — $50
Door lock knobs – Billet Aluminum — $27
Arm Rests — $60
Ash Tray and Well Upholstery — $36
Custom Ash Tray and Well Upholstery create and install — $65
Firewall Guard — $20
Sail panel fasteners — $9
Headliner glue — $6
Visor chrome mounts — $29
Pillar post moldings — $56
Rear View mirror (oval polished aluminum) — $56
Rear View mirror chrome mounting bracket — $20
Dash pad — $200
Dash pad mounting clips — $9
Glove box lock — $15
Glove box — $15
Heater Control Lens — $12
Air Vents (left and Right) — $35
Dome Light — $3
Back deck top — $15
Chevy Bowtie Emblem for trunk panel — $30
Fold down seat partition — didn't fit, returned
Material for Rear Seat partition — $10
10″ Speaker grill for rear seat partition — $13
Fold down seat carpet — $28
Fold down seat back stoppers — $3
Parking Brake Release Handle — $8
Rubber Stopper Kit — $16
Automatic Transmission Console — $164
Console Arm Rest — $86
Console to Floor Mounting Bracket — $13
Forward Console Emblem — $11
Automatic Console Shift Plate — $36
Console Hardware Kit — $16
Console forward plate — $10
Heater Core, Big Block — $72
Heater Core Tube Seal Retainer, Big block — $22
Heater Box Seal Kit, Big block — $22
Blower Motor — $22
Fresh Air Duct Seal Kit — $14
Kick Panel Insulation — $7
Rear seat shelf jute padding — $10
Chemicals, Paints, Adhesives — $64
TOTAL — $6816
Miscellaneous:
One can't imagine how all the little things add up unless you actually track each purchase and then look back at all of them. Never in a million years would I have imagined that I would spend over $3500 on things like paint, adhesives, chemicals, sanding and stripping supplies, electrical supplies, specialty tools, hoses, and fasteners. Eastwood paints and chemicals ain't cheap that's for sure. Also, since I basically replaced 95% of the nuts and bolts on the car, and 80% of the ones I purchased were stainless steel which are typically cost 3 times more than a normal fastener, the nuts and bolts costs ran exceptionally high. The following list makes me laugh and cry at the same time. Scroll down and checkout the total.
Camaro restoration books — $53
Car Cover — $65
New Accel Rotor for original engine — $19
Power Steering Belt for original engine — $9
5 Gallon Gas Tank, power steering fluid, brake fluid — $29
Power Steering Hose for original engine — $23
Spark Plugs, RTV Blue Silicone, for original engine — $26
Electrical supplies — $5
Accel Coil and Summit Spark plug wires for original engine — $58
Rust chemicals and paint — $56
Grinding and sanding tools, rags, paint thinner, protective gear — $63
Holley Carb Rebuilt Kit for original engine — $30
Paint/rust stripper, scrub brush — $12
Thread locker, drill bit, bolts — $13
Summit Chrome Air Filter for original engine — $25
Paint Brushes — $5
Electrical Wire and clips — $9
Towels and saw blades — $17
Sanding, paint, and chemicals — $20
Paints and chemicals — $8
Paint — $14
Hand Towels — $12
Clay polishing kit and chrome polishing — $23
Tape and paint brushes — $12
Paint, Duct tape, aluminum tape — $36
Sand Paper — $18
Car Seat Cover — $22
Wheel Polish, Cleaning supplies — $15
Stainless steel fasteners(nuts, bolts, etc) — $7
Sheetmetal, metal, paint — $19
Paint and sandpaper — $34
Paint and expoxy — $12
Glue, Fasteners, Vinyl/Plastic Paint — $17
Paint — $27
Paint stripper, devices, stripping tub, rubber gloves — $53
Wiring and heat wrap butt splices for dash cluster — $35
Stainless Chrome Trim Polishing Kit, Eastwood — $40
Engine Bay, Frame, Suspension Paint & Prep, Eastwood — $150
Kragen supplies run – lubes, filters, grease gun, paint, hand cleaner, oils — $98
Stainless steel fasteners for Rear suspension — $13
3M Silcone paste 8oz — $19
Misc Fasteners for Rear of Car — $8
Loctite, thread locker, black silicone — $19
Eastwood Chassis Paint, Primer, Rust Encapsulator — $97
Sanding Discs and Blue Thread Locker — $15
Rags for cleaning undercarriage — $26
Brake Bleeding Kit — $8
Eastwood Spray Gray paint, free shipping — $11
Stainless steel fasteners for motor mounts, front suspension — $14
Fuel Line, Grease — $11
More Hardened/stainless steel fasteners for front suspension — $8
Stainless Steel fasteners for gas tank install — $4
Stainless Steel fasteners for brake booster/master cylinder — $6
Stainless Steel fasteners for heating/ventilation — $4
Piece of sheetmetal — $10
Black RTV Silicone — $5
Eastwood 2 Cans of Rust Encapsulator Primer, 1 can of Chassis Black — $73
Bolts for Fuel and brake clips and engine stand — $17
Tire spray, Undercoating, Powerball refill, metal filler, sand paper — $44
Disposable latex gloves — $14
Paint thinner and sponge — $11
Stainless Steel fasteners for valve covers — $6
More valve cover bolts, allen-bolt style, stainless, other's wouldn't fit — $6
3 quarts transmission fluid — $13
Transmission flush for cooling lines — $7
Stainless and hardened bolts for mounting transmission and crossmember — $10
Sheetmetal and bolts necessary to build ignition and coil platform above glove box — $17
More stainless steel fasteners — $17
Serpentine Belts — $28
Oil, PS Fluid, Brake Fluid, Coolant, Hose Clamps, Silcone, Toggle switch — $98
3 gallons of tranny fluid and temporary exhaust adapters — $27
Heater and vacuum hoses, clamps, temp radiator cap, electrical connectors — $47
More stainless fasteners, hose clamps — $10
Electrical connectors for dash/gauges wiring, prof electrical tape — $12
More electrical connectors and stainless fasteners — $20
Kragen supplies run – fuel hose, teflon tape, muffler clamps, fuel line fitting, host clamp — $20
Two temporary muffler turn down pipes to break-in engine with before completing exhaust — $16
2nd set of spark plug wires since I burned through one from original set, now have extras — $64
Tire valve repair kit and tool — $5
Sanding discs, sand paper, thinner, wire brushes, body filler, sand sponge — $46
Sheet metal, masking tape, mixing board, sanding block, spray paint, sanding/grinding stones — $71
Rust Encapsulator and underhood black paint — $37
Icing Finishing Putty — $30
Paint for interior/dash — $21
Epoxy Glue — $5
Kragen supplies run – wire and terminals, carb cleaner, electric/ignition tools, oil — $50
Stainless Steel fasteners and interior screw — $5
Pep Boys – Paint, Undercoating, Sandpaper — $55
Stainless steel fasteners for front bumper brackets, inner fenders and brackets — $21
Eastwood Rust Encapsulator(2), underhood semi-gloss black — $45
Eastwood chassis paint, sanding discs, sanding paper for blocks, plastic prep, sanding block — $160
Stainless Steel fasteners — $7
2 packs of Heat shrink butt splices for electrical wiring, cable ties — $24
Fasteners for kick panels — $4
Eastwood reflective paint for lamp housings — $11
Aluminum polishing kit, palm sanding block, flexible sanding pads — $50
Electrical supplies, bulbs, tie wraps, toggle switch — $69
Stainless fasteners for new GM fan thermal clutch fan — $6
Eastwood Purchase – High fill primer, self-etch primer, round sanding block, 3″ discs — $62
Sand paper and paint brushes — $12
Premium plastic filler — $19
Eastwood: Weld-thru zync primer, Evercoat Metal Filler, Icing polyester finishing putty — $75
Masking tape, sanding discs, paint brushes to apply paint stripper — $20
Stainless fasteners for trunk lid, trunk lock — $8
Sanding Discs, Paint Stripper, latex gloves — $29
Eastwood – Paint Prep wipe, rust converter(acid based), Rust encapsulator(brush on, quart) — $69
Sanding Discs, Wal-Mart — $17
Paint Brushes for applying rust inhibitor to inside of doors, stainless door fasteners — $15
Eastwood Self Etching Primer and Underhood black — $35
Stainless Steel fasteners for front and rear bumpers — $10
Seam sealer, Kragen — $8
Fisher Body Assembly Manual — $26
Velcro patches to custom build anti-rattle brackets for door glass — $13
Stainless Steel Fasteners and metal scrap for windows roller and door lock hardware, brackets — $10
Buffing pads for window trim — $25
Metal file plus sandpaper(for window trim) — $13
Aluminum plate for custom ZZ fender emblems and driver side door shims — $6
Speed nuts, double-sided adhesive tape, blue thread locker — $22
Masking tape to protect painted items during re-assembly — $11
More stainless fasteners, blue paint, goop adhesive — $16
More stainless fasteners, speed nuts, bulbs, rubber caps for grease fittings — $61
More(never ends) fasteners and wire tie wraps for exterior assembly — $29
More fasteners, electric wire plastic flex tubing, electrical tape, satin black paint — $46
Satin black vinyl/plastic paint — $8
Misc Fasteners — $6
Velcro for Sail panels and rear seat partition, and more fasteners — $21
Toggle switch and supplies for torque converter lockup override, more fasteners — $14
NGK Iridium plugs, 8, 6597, Kragen and Pep Boys — $60
Courtesy Lamp bulbs, hard-to-find, had to buy on Ebay — $9
Stainless fasteners for hood latch — $4
Hose for tranny overflow, Kragen — $6
TOTAL — $3579
For all of you that are working on a car at home or have completed a car, I now have a MUCH deeper appreciation for the work you're doing or the work you've done. It's the main reason I created this, to give back to all of you and hopefully help a few people.
Looking Back…
Now that my car is finished, I can look back and say that the following items stood out for me the most:
1. It took a lot more time than I thought it would. I can't see how a person with a family could possibly tackle such a project and not place a strain on their relationships with their wife and children. Anybody who doesn't have a lot of spare time should either not take on such a project or plan on paying other people to do a lot of the work.
2. The costs are more than you'll think they'll be. The miscellaneous stuff really adds up, and parts and labor will cost more than you think they will. Thank God classic cars are decent investments because you'll cling to that word 'investment' every time you spend another dollar, and another, and another.
3. Buy the best possible starting car you can afford. Having a great source car saved me a ton of time and money. It's especially important to find a car with a great body because bodywork easily takes the most time and can run up the cost very quickly. Don't think that sticking on reproduction metal will be cheap either because it can take a lot of time/money to get that reproduction part to line-up properly.
4. Research, Research, Research. I spent a ton of time reading Chevy Camaro forums. They helped me so much. Before you buy a part (especially a reproduction part), be sure to research it as much as possible because you could save yourself a bunch of time, aggravation, and money.
5. Pay people to do the cleaning, media blasting, stripping, etc. The amount of time and money I spent on cleaning parts, the underside, engine bay, and basically all pieces of metal on the car was very intensive. If I was to do it again, I would just take the car to a media blaster to have the engine bay, undercarriage, frame, and more of the parts stripped instead of doing it all myself. The amount of money you spend on sand paper, wire brushes, and stripping chemicals (and industrial soap and extra water in the shower!) is nearly identical to the amount you would pay somebody to strip it, so just pay them. I did pay for some media blasting though and I'm happy I did. I wish I had done that a little more.
6. I'm glad I didn't overbuild the engine (adding more horsepower than what came in the crate) or pay an absolute fortune for a flawless/major-show-winning paint and body job. I don't have to worry so much about small paint chips from road debris or how much I'm spending at the pump, so it makes driving the car more often enjoyable. Of course, my paint job wasn't cheap either, and the reason I didn't have huge body work costs was because I started off with a car that was amazingly straight with mostly original sheetmetal and did the minor body work myself. Finding a solid 'middle-ground' on the paint and engine was a good choice for me.
7. It was all worth it! Dude, I love my car. I'm proud of the uniqueness, the thumbs up that I receive at intersections, and the feeling I get knowing I built the whole damn thing myself. Trust me, when you spend 2.5 years working on a car, it will mean a lot more to you than if you went out and cut a check for an already built vehicle or paid someone to do it for you.
8. Would I do it again? At this point, no, probably not, but I just finished recently so given a few years of rest I'll probably change my mind. Maybe I'll help my future kids build one, but not to the degree in which I built this car. I would definitely just pay some people to do the stripping/cleaning/prep work. The building/fabrication/design part is really a lot of fun (that's the part you usually see on TV!), so that's what I would enjoy doing again.