Posted by admin at 14 September 2016, at 22 : 06 PM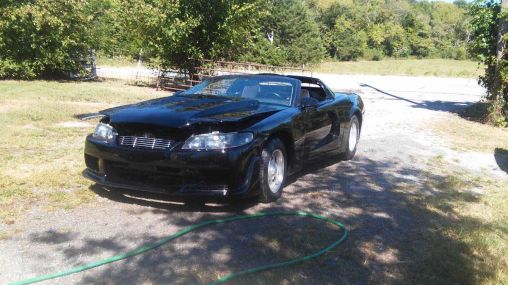 We've found a pretty interesting concept and wanted to share it with you guys. Some people may think that a good 3rd gen Camaro was ruined, but I would say that the concept looks pretty good. I really like the way it looks, especially the rear looks really good. Overall, the whole car looks pretty decent, and I would love to take it for a spin or even drive it daily.
This is what the owner has said about his car:
"This car started as a 1987 Camaro Iroc Z28. The front clip is a custom 2001 Accord that's been widened. The rear is from a 98 Viper and a 99 Camaro. It has a Corvette c5 wide body kit. The windshield was laid back 8 inches and the roof was chopped 4 inches. Narrowed positions rear end. Tune port 305ho motor. 700r4 with a 3500 stall and a shift kit. B&M ratchet shifter. The car still needs side glass and t top seals as well as roof seal. The inside has been converted to a 2 seater with a custom metal cover. There is room for a system. The entire roof comes off. It runs and drives awesome. Multiple trophy car all day long."
The concept is currently located in Lebanon, US.