Posted by admin at 20 November 2012, at 21 : 04 PM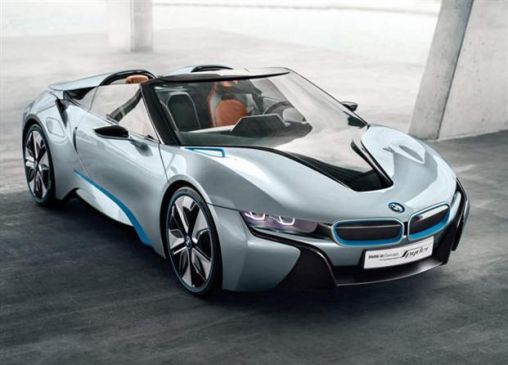 The new 2014 BMW i8 Concept Roadster is due to launch in late 2014, while the i8 coupe is due to launch in 2013. The roadster concept uses the same carbon fiber construction as the 2013 BMW i8 coupe. The new roadster is a strict two-seater, unlike the coupe's 2+2 seats layout.
The i8 roadster will have a 1.5-liter three-cylinder petrol engine which produces 354 bhp – 220 bhp in rear wheels and 134 bhp in front wheels. Also, it will be available with a front, rear, and all-wheel drive system by i8 configuration. It goes from 0 km/h to 100 km/h (0-62 mph) in just 4.6 seconds. Top speed will be electronically limited to 250 km/h (155 mph) as it is in all newer BMWs.
The new model will also stick to its famous 50/50 weight distribution. The price of this new model should start from around 127,300 USD ($) or about 80,000 GBP (£), while the 2013 BMW i8 coupe is priced at around 125,000 USD ($).
The i8 roadster's efficient petrol engine will average around 104 mpg. With a lithium-ion battery pack, you can drive with electric-only driving for up to 20 miles, and it can be fully charged in about 1h and 45 minutes by using a high-voltage outlet.
The new model definitely promises a lot of great new things, and it looks like a decent product for the future. Even knowing that the price is not that small, but for all the quality, it's not that high either. As for now, we can wait for the upcoming coupe model in 2013 and for more information about the new 2014 roadster.