Posted by admin at 4 November 2019, at 15 : 41 PM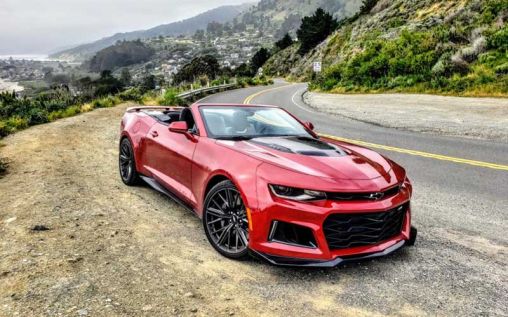 The journey of Chevy Camaro So Far
Chevrolet Camaro is a well-known mid-size pony car that has been ruling the American muscle car segment for decades. The first generation Camaro went on sale in September 1966. Since then, the car has been in-demand from a huge part of the urban population. Meanwhile, Ford Mustang was also grabbing lots of attention, and to compete with it, Chevy decided to bring a redesigned version of Camaro in 1967. Unfortunately, the company ended the production of Camaro in 2002. But, in 2009, a concept car reincarnated as a fifth-generation Chevy Camaro. Chevy has sold around 5 million Camaros worldwide to date.
Notably, the fifth generation Chevy Camaro received a complete redesign in 2009 after the 2006 Chevy Camaro Concept and 2007 Chevy Camaro Convertible Concept got approved. Wait! The story does not end here. The present-day Chevy Camaro that you see hauled around is the sixth-generation car. Build on the GM Alpha platform, the sixth-generation Chevy Camaro with LT and SS models went on sale in 2015. The Chevy Camaro is also a popular face in Hollywood as well. Interestingly, we got to see lots of Camaro versions in the Bumblebee character of 2007 film, Transformers, where you find a 1976 Chevy Camaro. In later sequels of the film, a modified version of the fifth-generation Camaro is seen.
The New Sixth-generation Chevrolet Camaro
Moving to the recent 2019 Chevrolet Camaro, you'll find everything good about the car. This is why it has successfully made its place among the top 5 American Sportscar list. With an introductory attractive price of $25,000, the Chevy Camaro comes with value-added features that are not at all basic. The 650 HP V8 Chevy Camaro is built to fulfill your performance needs. Camaro's aerodynamic minimalistic design makes it stand distinguished among the crowd. Once you get seated inside the Camaro, you'll be welcomed by a refined cockpit that has been tuned for performance driving, the flat-bottom steering wheel, and best-in-class shifting ergonomics.
Know your Chevy Camaro
Picking up one single trim from multiple trims is a kind of tiring task. Everyone goes into extensive research on the car. There are lots of questions in mind while picking up the best sports car for you and things become more complex when you find multiple trim options. To make the buying or research process hassle-free, we have a helping hand for us, CARHP. This website offers great tools that make car searches easy and each content available there is well-curated.
Hopefully, there's an online website CarHP that helps you find the right car for you. All you have to do is to set your preferences and wait for the results. CARHP gives you access to its rich inventory and well-curated in-depth car reviews, making car buying experience simplified.