Posted by admin at 8 January 2020, at 08 : 12 AM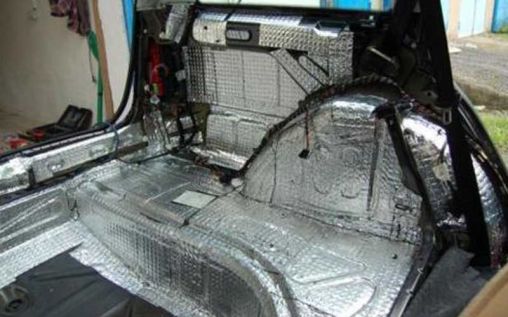 When soundproofing an automobile, different materials exist and they offer you different levels of effectiveness. Unless you know what makes a sound deadener effective, you will not be able to choose the right one.
You may be wondering why you need to soundproof your vehicle. Well, there are many noises that emanate both from outside the car as well as inside it. Even if you use a high end car, you still get some form of noise or the other. Noise in an automobile can be stressful and can easily make a person fatigued especially if you are going on a long trip. This article here talks about the impact of vehicle noise on human health. The solution to this is to soundproof your car.
So you have decided to soundproof your car. What do you do next? You either call an expert to help you do it or you try to do it by yourself. Of these two, it is recommended you request the help of a professional rather than doing it yourself as they have the experience and know-how to first determine what the best materials for your job are as well as getting it done to perfection. If you decide to go ahead with doing this by yourself, here are some of the best materials for soundproofing your vehicle.
Noico 80 mil 36 Sq. Ft Sound-deadening Mat
Noico deadening mats can be used anywhere you want to block noise but it is best for blocking automotive noise. It is designed to eradicate all forms of rattling, and vibrations in a moving vehicle. The Noico sound deadening car mats offer the best price for an 80 mil automotive foil and butyl material. Aside from this, it is 1.5 times as thick. This enables it to achieve a high level of effective sound reduction in a vehicle by absorbing sounds instead of reflecting it back into the car. The thicker the material is the better the performance.
The Noico self-adhesive side consists of butyl and has a sound deadening weight of 0.7 pounds for every square meter meaning that relative to the weight of the material, optimal sound insulation is achieved.
Noico comes with an indicator that visually shows if the product has been installed properly or not. A person installing just needs to roll out the embossed surface of the butyl until there are no bubbles left. It comes in a stack of nine folded sheets measuring 29.5 inches by 19.5 inches each and the total coverage area is 36 square feet. Users should keep in mind that the roller is not included when you by a Noico mat. See https://soundproofpros.com/best-automotive-sound-deadening-materials/ for more on Noico.
Kilmat 80 mil 36 Sq. Ft
Kilmat may not be the most popular or talked about brands but it is equally as effective in deadening sound in a car. It is quite affordable and performs better than some others that are more expensive. Asides insulating your car against noise, it retains heat in the car. This is especially great in winter.
Kilmat contains foil and butyl. It is 80 mil thick and weighs 0.5 lbs per square feet. It comes in pre-cut 9.8 by 17.7-inch sheets and a single pack can cover 36 square feet. Although it needs a steady hand when installing and can be applied internally or externally, installing it is easy and it's adhesive is quite strong and durable.
Second Skin Damplifier Pro Sound Deadening Mat
The Second Skin Damplifier Pro is a high-quality noise reduction material. If you desire best-in-class performance and great customer service, then the Second Skin is a choice to give serious consideration. It is cost-effective, durable and effective at eliminating noise and vibrations in a vehicle.
Second Skin is made from premium butyl rubber and a thick foil layer. The butyl is flame resistant and can withstand high temperatures that can build up over a long drive. It is 80 mil thick and weighs 0.7 pounds for every square foot. Second Skin manufacturers ensured it can deaden noise from any sheet be it fiberglass or aluminum.
Each sheet of the Damplifier comes in 12 by 20 inches covering an area of 1.67 square feet. You will find loads of installation video guides online that will make installing the Second Skin Damplifier a lot easier for you.
Car Insulation Sound Deadener and Heat Barrier Mat
The beauty of the Car Insulation sound deadener is the fact that it helps in controlling thermal fluctuations all through the year. It is lightweight, very efficient, and one of the easiest sound dampening materials to use for noise reduction in a vehicle. It has a thermal and vapor barrier that makes it block up to 97% of radiant heat and cold. This makes it perfect both during summer and winter.
The Car Insulation sound deadener is flexible and can be used for any mid-size cars to large sedans or SUVs. This product is highly crush-resistant and durable. It comes in just one 120 by 48 by 0.2-inch thick sheet that can be cut to the desired size.
The car insulation sound deadener however does not come with any adhesive so the user must use their spray adhesive, double-sided tape or foil place to keep it in place.
Conclusion
The above list is not by any means exhaustive. There are several other automotive soundproofing materials out there. So getting professional advice is great. When buying material to soundproof your car, you should put in mind factors like how light the material is, how oil-resistant it is and how durable it is.