Posted by admin at 27 March 2018, at 13 : 30 PM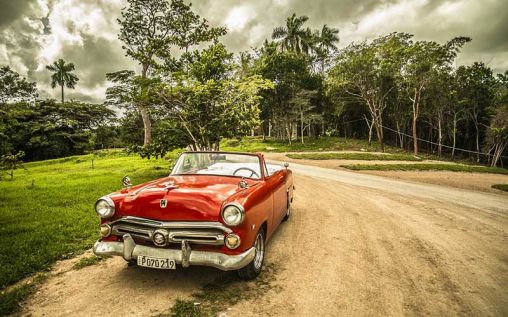 Your mates keep telling you that your car is ancient and you could really do with an upgrade. You're reluctant to part ways with your trusty vehicle because it's been by your side for many years and hasn't let you down yet. You don't need to get rid of your reliable car, all you need to do it give it a few new shiny features to upgrade it a little. The truth is you can't afford a whole new car, so you want to stick with your current one for as long as you can. Try these easy improvements and you will no longer feel embarrassed of your outdated automobile; instead you can show off its exciting upgrades.
Rolling and Repairing
The outer body of your car could probably do with a lick of paint or even some extra care and attention to small dents and scratches. Looking at increasing scrapes and flaky colouring can seriously make your car look ancient, so get some bodywork done to make it look like brand new. As well as making you feel irritated at the ageing appearance of your car, it can also give off an unprofessional vibe. Sharpen up your style with a shiny new look and even some new wheels. Your car is a direct reflection of your personality, so if your vehicle is looking awesome the chances are that people will believe that you're stylish and charming too.
Clean and Clear
Having an tired-looking car is one thing, but allowing it to run with dirty vents and clogged up transmissions is another. You could completely overhaul your car by giving it a thorough clean from the inside. Firstly, you should look at cleaning out your air vents. You become accustomed to the smell of your car, but new passengers might notice the musty, old scent which isn't too appealing. Portray that classic new car smell by giving your air vents a regular and rigorous clean. In addition, a thorough transmission cleanse will hugely impact the smoothness and overall power of your car, so make sure to tick this off your cleaning checklist too.
Terrific Tech and Great Gadgets
Even if you are driving an ancient looking car, the inside could be instantly made over to reflect the modern day. Perhaps you're car is still sporting an old school cassette player; let's face it, even CD players are getting to be an old feature of a car. Get yourself the latest bluetooth systems so that you can play music wirelessly through your iPod. New mobile phone legislations also mean that it's getting more and more important to use a proper Sat Nav instead of your iPhone. Soon your car will be kitted out with all of the latest gizmos and gadgets and you will forget how old your car actually is.
With these easy tweaks you will feel like you have a brand new car on your hands. Inject some excitement back into your road trips and enjoy your exciting new features!