Posted by admin at 21 December 2014, at 20 : 21 PM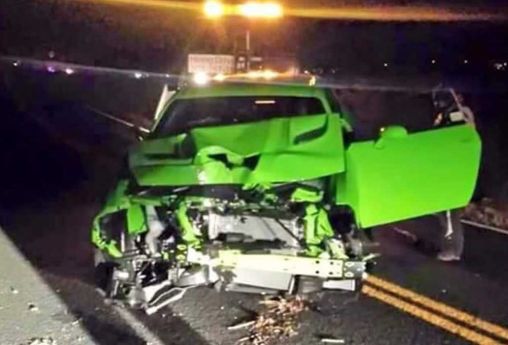 A lime green 2015 Dodge Challenger SRT Hellcat crashed in Colorado yesterday. The Hellcat skidded off the road near a bend and crashed head-on into a tree.
The crash was bad, and the car is wrecked badly and is likely to be a complete write-off.
The worst thing about the whole accident is that the owner picked up the car from the dealer just 1 hour before the crash. The owner probably wanted to test the car's power but failed and crashed it — 707 HP was probably too much for the driver to handle — what a bad day for the guy…
No one was seriously injured during the crash. Can't say the same about the car, but at least people are fine. The car is just a car anyways. 🙂
The 2015 Dodge Challenger SRT Hellcat was called the most powerful American muscle car ever produced after it was introduced for the first time. The car is just ridiculously powerful, and the accident shows what can happen if you push the car too hard.
Such a shame that such a beautiful car was wrecked so quickly. It is also the very first Dodge Challenger SRT Hellcat crash on a public road ever.