Posted by admin at 22 October 2021, at 07 : 04 AM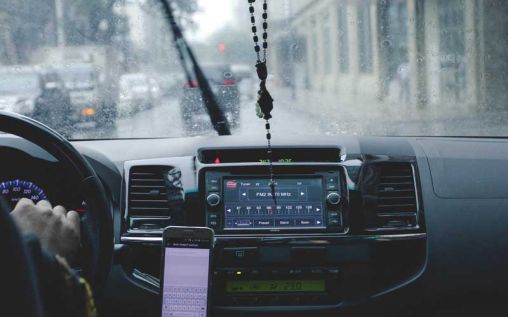 Every car driver wants to listen to the best music choices at the best sound quality possible while driving. And the reason is simple. A good music system makes driving fun. Any music can sound better when it's played through a high-quality stereo system. If you wondered, how a high-quality stereo looks like, it's definitely doesn't resemble your factory-installed stereo. That's why many car owners prefer replacing their default stereo system with aftermarket car audio systems. The reason is simple. As they have problems with the original OEM stereos, they consider getting new ones.
There is a vast range of aftermarket car audio systems available on the market. And if you are confused while deciding to buy an aftermarket car stereo replacing the pre-installed one, this article is for you. It will help you to understand the difference between factory-installed and aftermarket car audio.
Factory Installed Car Audio Vs. Aftermarket Car Audio Systems
Whether you love listening to your favorite podcasts or love to move your feet with lyrics, a good head unit is the center of your overall audio experience. The head unit is generally located in the center of the vehicle's dash, and it produces audio.
Factory-installed refers to the unit manufactured with the car and the one you get along with your vehicle while purchasing your vehicle. And aftermarket refers to the car stereo unit used to replace the factory-installed unit after buying the car.
What Are Aftermarket Options Available for You?
You can expect to get an aftermarket car stereo system within $100 to $2000, and they will consist of different features and quality. Remember that while buying an aftermarket car stereo system, you get more features when you pay more.
A car owner must hire a professional installer to harness the wires to install an aftermarket car stereo system. Aftermarket car stereos are as simple as factory stereo systems. But sometimes, they can be as complex as an advanced touchscreen with navigation with many source options. There is a various option you can get while buying an aftermarket car stereo system including:
AM/FM Radio
CD And DVD Player
USB Audio
Audio/Video Output
Steering Wheel Control Integration
Android And Apple Connectivity
Bluetooth Connectivity and More
How To Improve Factory Installed Car Stereo?
If you don't want to replace your factory-installed car stereo system but somehow want to improve the sound, it's somehow possible. You can make a few changes and additions to make your factory unit sound as good as an aftermarket one. After buying a vehicle, every car owner tries to avoid huge investments. In such cases altering the factory unit becomes the best possible choice.
Depending upon your factory-installed unit, you can prefer replacing some components of your car stereo unit. You can add an amplifier to produce more power, change the speakers to improve the sound quality, and make minor alterations.
Why Buying an Aftermarket Car Stereo Is Better Than Improving Your Factory Unit?
Replacing your car stereo system with a high-quality aftermarket car stereo system is one of the best ways to upgrade your driving experience. Not everyone thinks of upgrading the sound system of a brand-new car. Most people find the music enjoyable but unfortunately for a concise while.
Remember that car manufacturers never consider providing you excellent listening experience while manufacturing a car. They just install a factory system to make the car commercially viable. Evidently, the car manufacturers pay extraordinarily little thought into the design of the speaker system. There are very few car brands that offer premium speakers, but sometimes even those cannot match the aftermarket audio systems. And when you try to improve your factory-installed stereos, there is a considerable limitation.
If your car is not a current model with a premium sound system, you have enough reasons to change it completely. If you are lucky, the sound of your factory unit might seem to be great, but once you start experiencing an aftermarket car audio, you will notice the difference with time.
The Big Difference Aftermarket Car Speakers Bring to You
Remember that when you compare an aftermarket car stereo with a factory-installed car stereo, the difference is huge. Aftermarket car stereos are capable enough to bring in an experience of customized audio as you can change the setting until the music matches your music taste. On the other hand, the features you get in your factory-installed car stereo depend upon the vehicle you are buying.
Sometimes the stereo systems of even the most luxurious cars fail to compete with the aftermarket car stereo system. Aftermarket car audio systems produce more precise and more detailed sound. You can enjoy listening to music on different bass and frequencies with an aftermarket system. Here are some specific reasons why aftermarket speakers are the best:
They Are Designed to Sound Better: Though you are spending buying the latest car model, vehicle manufacturers still don't pay much attention to the audio system. For a car manufacturer, the car stereo is one of the additional features that make the car more vendable. But the car stereo manufacturers design the systems to bring you good sound quality. Car audio manufacturers keep experimenting and innovating until they get the best quality car audio systems that sound better. Branded aftermarket car audio systems are built with sophisticated designs with multiple features for exceptional sound quality.
They Are Durable: Car audio manufacturers also prefer creating durable designs. Aftermarket car stereos last longer than factory-installed audio systems. The reason is car manufacturers use cheap materials that can quickly wear out. On the other hand, aftermarket car stereo systems are made of high-quality materials that can withstand regular usage. The woofer, tweeters, and other aftermarket car stereo system components are carefully designed, and they are exceptionally durable to tolerate extreme conditions.
They Can Handle the Power Better: Factory-installed car audio systems are poor handlers of power. Thus, you now know the reason why they produce low-quality sound. They sometimes fail to work with most amplifiers as they have a meager RMS rating. If you love listening to music at high volumes, you can notice this. Aftermarket speakers, on the other hand, can handle more power and can produce more profound bass. You can experience louder and cleaner sound with an aftermarket car audio system.
Summing Up
It is time to make your choice. You can entirely improve your factory-installed car audio system or replace the system with a completely new and feature-rich aftermarket unit. Remember that aftermarket car stereos are stylish, and they come with specific functions. Before you start hopping from one car stereo store to another, you can do a little more research online and gather more knowledge about aftermarket car stereo systems.