Posted by admin at 14 January 2015, at 21 : 35 PM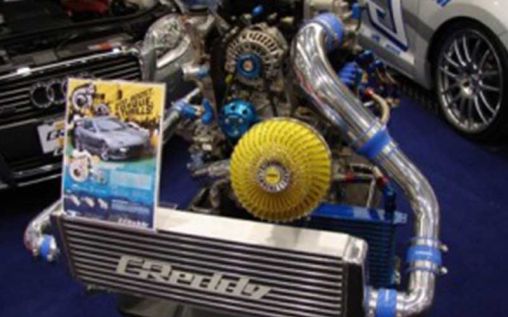 When Mazda released the all newly redesigned RX-8 back in 2003, enthusiasts were lining up to own the successor to the beloved RX-7. Well, it did not take long for owners to realize that the advertised 247 horsepower seemed much less. And dyno results told the tale; the car was indeed down on power. A few speculations were tossed out including revised ECU control to meet Federal emissions standards. But the fact remained the car could only muster 185 WHP on a Dyno at the most. Well, luckily, companies out there like Greddy have a wonderful turbo kit waiting that will add almost a 30% increase in power.
This kit comes with all the hardware necessary, and the install process is a complete bolt-on affair. The heart of the turbo kit is the super reliable Mitsubishi T618Z turbocharger. Behind the bumper, there is a massive front mount intercooler. The kit also includes a cast-iron exhaust manifold which will last much longer than any stainless steel part. And a downpipe adapter is also included in the kit. You get a great looking Airinx intake and aluminum intercooler piping to finish off the look of your Mazda RX-8 Turbo.
The Greddy Mazda RX-8 turbo kit retails for a cool $4700, which is a bargain since the kit include the Greddy E-Manage engine tuning software along with the intercooler kit.
Horsepower jumps 30% from 202 HP to 260 HP and torque is up from 125 lb-ft to 176 lb-ft.