Posted by admin at 7 September 2014, at 20 : 42 PM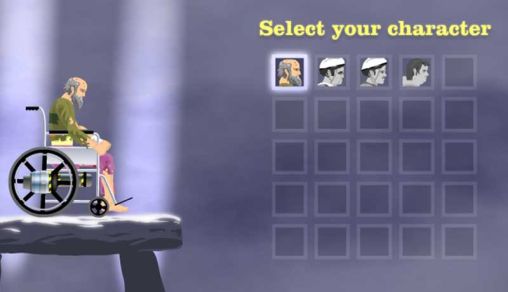 One of the most popular games in the world of cars – Happy wheels is here! Enjoy lots of cars, lots of wheels in the game where it seems almost practically impossible to win. You need attentiveness and fast reaction in order to drive your car or happy wheels. Also, the ability to calculate the possible danger will help you to overcome the danger while driving a car.
At the very beginning of the game you will be given the opportunity to choose any vehicle from the cars or scooters. The aim of the game is to escape with your transport – it does not matter if it is a car, a chair, a scooter, or a bike. Anyway, you have to escape and stay alive after a few pre-prepared routes. Bypassing the trap will be the most important skill which will improve your gaming abilities in the maze where even the landscape with holes in earth has prepared the difficulties that await you throughout the game Happy wheels.
It is a pity, but the passengers and even the drivers sometimes lack of health. This means that sometimes they are disabled, for example an invalid grandpa. Sometimes they are really crazy and out of mind – like the careless father with his son or daughter – and sometimes, they present particularly desperate extremists who risk to embark on a long trip in spiky places.
Even the most brave men can't risk their lives and put to death their beloved persons, but for the main characters of the game, the most important is the car or a bike they ride and not a passenger, even the own son. If you are determined to have fun, then Happy Wheels will always give you enough space to enjoy the day simply doing nothing but escaping.
Sometimes people can get bored a lot. It's why this bloody game with cars has deserved the love from internet players. They seek for escape. Are you one of them? Then risk and join us to enjoy super cars. Remember that risking everything you are going to conquer the surrounding hills and the road that will be extremely dangerous. Can you manage it and become the king of the hills? Apart from the usual climbs and descents, a very strange and diverse sort of barriers are awaiting you in Happy wheels.
Strange mechanisms and structures placed in the ground are thicker than your risky soul. However, some of them significantly ease your way in reaching the final way – the exit from this horrible world where even your car wants to damage and tease you. Are you ready to enter a horrible world in order to escape from it? Then join our paradox in happy wheels. Do not fall down from your transport, discover new cars, new wheels, new means of transportation, and try to push yourself in the adventure where there is no way out.