Posted by admin at 2 May 2013, at 20 : 56 PM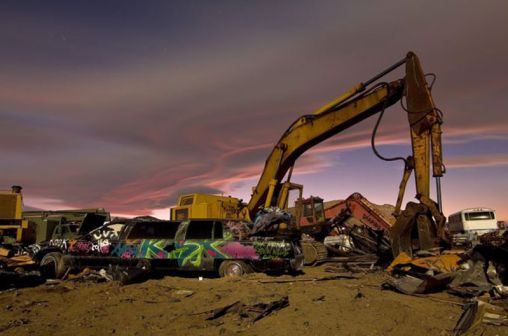 Some cars from some of the best Hollywood movies get sold in auctions for tons of money. However, some of these cars aren't that lucky and end up in auto dump where they get recycled in most ways.
In the graveyard of Hollywood cars, you can find all kind of automobiles from some of the best movie hits. You can find out there all kind of police cars, buses, firefighters cars, limousines, ambulance cars, garbage trucks, and all kind of other vehicles. You even can find a few planes, helicopters, and metro trains. Some of these cars get recycled, some get renewed and are used in other movies later.
In a picture below you can see one of three Dodge cars used in chasing scenes back in the 80s. All these 3 cars were painted in the same color.
This green mysterious car below is a 1957 year Chevy Custom car. Definitely a good looking car for fantasy movies.
A wrecked bus below is a Los Angeles county sheriff's bus from the movie Fast Five 2011, featuring Vin Diesel, Paul Walker, and more great actors. This bus was crashed at the beginning of the movie and it was a dramatic fashion crash with stunning effects.
And these below are New York metro wagons.
Below, a 1959 year Chrysler Imperial from the movie Cobb 1994, featuring actors like Tommy Lee Jones, Robert Wuhl, Lolita Davidovich, and others. This car somehow reminds me of old retro movies alien spaceships.
Car's interior of the character "Count Olaf", from the movie Lemony Snicket's A Series of Unfortunate Events 2004, featuring actors like Jim Carrey, Liam Aiken, Emily Browning, Jude Law, and others.
And our last picture is from the movie, "The Flintstones 1994", featuring actors like John Goodman, Elizabeth Perkins, Rick Moranis, Halle Berry, and others.
As you can see, some of these automobiles are really extraordinary. The owner of these photos is Troy Paiva, also known as "Lost America" since 2011. He has spent 27 nights at this auto graveyard for photographing these cars. As he says that each visit is different, because there are always new cars around and old ones are gone. Since the first visit, a lot of old cars were gone.
Anyways, I can bet he spent some really interesting time while making these photos, because this graveyard looks like really one of those places where you can't be bored too much. Definitely a nice and kind of unique place with so many interesting vehicles.