Posted by admin at 15 November 2019, at 12 : 00 PM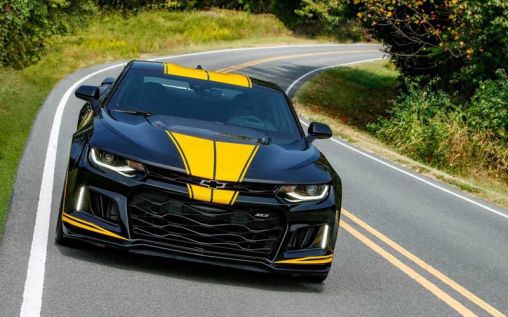 If you are lucky enough to own a Camaro, the chances are that it is your pride and joy. Of course, as such, you will want to keep it in the best condition, both inside and out. Happily, that is a task that the information in the post below can help you to do. Read on to find out more.
Looking after your lights
The first tip you need, when it comes to keeping your Camaro in top condition is that you need to take care of your tail lights. Now the good news here is that you won't need to change these very often, as they do tend to be longer-lasting than many other models.
However, when it is time to swap those bulbs out a little extra care and attention is well worth the effort. This is because Camaro tail lights do have a tendency to corrode. This being something that is not great for your lights or your car in general.
To that end, thoroughly clean down the tail light sockets before you put in the new bulbs. A task you can get some guidance on in the video below.
Invest in detailing
Next, if you want to keep your Camaro in peak condition, both interior and exterior detailing is necessary. In fact, as soon as you buy you Camaro, it is wise to invest in a thorough exterior detail. Of course, you can totally do this yourself, you can even find videos like the one below that show you how.
However, it is worth noting that detailing can be laborious and time-consuming work. Therefore, if you are concerned about not having the time to do this job yourself, you can use a service like Detail Time to do it for you. The essential advantage of this being that they will come to your home, and do the work there. Something that means it takes minimal effort on your part at all to keep your Camaro looking its best.
Regular servicing
It is also essential to regularly service your Camaro if you want to maintain its condition over time. In fact, most mechanics recommend that you stick to a servicing schedule for the tasks that need to be done.
For example, the fluid in the breaks will only need to be replaced every 5 years. While things such as checking the breaks, keeping tires inflated, and tire rotation will need to be done every 7000 miles that your car travels.
Set aside a maintenance budget
Finally, if you are looking to keep your Camaro running smoothly for as long as possible, then setting up a separate budget to cover maintenance is a smart idea.
This is because, while immensely fun to drive, Camaros only rate at around 50% on the reliability scale. Something that means you may be looking at fairly frequent repairs.
Of course, these are always easier to get done, if you already have the money ready to go. Something that will ensure your Camaro is on the road as much as possible.