Posted by admin at 29 March 2018, at 18 : 27 PM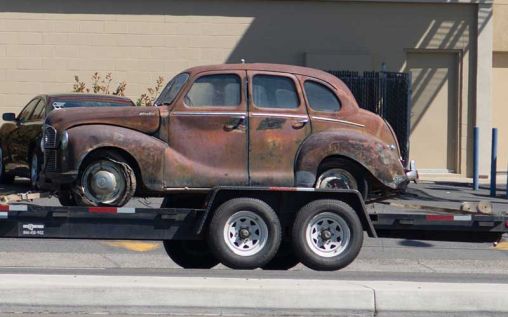 A vehicle in bad condition isn't always a bad purchase. It could be a chance to buy a car cheap and then do it up to it's former glory. This could be a great investment strategy allowing you to sell the vehicle for profit, although you may simply want to restore the vehicle for your own personal use. Here are just a few tips for buying a vehicle to restore.
Have a budget
Before buying a vehicle to fix up, make sure that you have a budget in place. This will determine how much you can spend buying a vehicle and how much you can spend doing it up. This is important if you're planning to buy a fixer upper as an investment – otherwise you could spend thousands and not make any profit.
Know where to look
There are all kinds of places where you can buy a used car to restore including dealerships, independent sellers and auctions. There are Facebook pages devoted to selling cars for recycling and restoring purposes. You may even be able to buy a car from your local scrapyard.
Get a professional opinion before buying
It's worth always taking a professional with you such as a mechanic or fellow car investor who can inspect the vehicle and give you a good estimate of how much the car will cost to restore. Without a professional opinion, you could risk spending a huge amount on a vehicle that's really beyond repair.
Consider how you'll get the vehicle home
If the vehicle cannot be driven, you may have to consider how you're going to get it home. This could involve getting a company such as Swan Towing to pick up the vehicle. Make sure a vehicle has been serviced before you attempt to drive it.
Source your own parts online
If you need to source new parts, you may be able to find them online at sites like Part Shark. There's no point going through a mechanic as they are likely to make commission on these parts. Finding niche parts for rarer models could prove more difficult and more expensive, so bear this in mind.
DIY what you can
You'll save a lot of money by doing a DIY restoration. Thanks to the internet, it's now easier than ever before to fix up an old car – there are how-to blogs and Youtube tutorials on pretty much any repair job. That said, you should be careful of biting off more than you can chew. If you have doubts about doing certain repairs yourself or are struggling, you may be best getting a professional mechanic to take care of it rather than risking further damage to the car. Classic cars are likely to be easier to restore as you won't have to deal with all the electrics and complex machined parts that many modern cars have.