Posted by admin at 8 November 2020, at 07 : 00 AM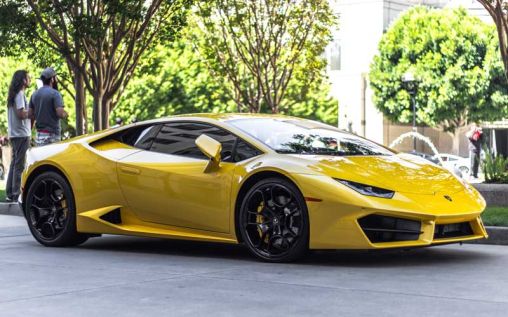 Have you always dreamed of owning a really special car? A dream car something that a lot of us have, but the reality of being able to afford one is not something that all of us are able to do.
A dream car will always come with a price tag most of us can't afford unless we've won the lottery. For some, the process of saving up for a dream car might take their whole lives. With these tips, you can afford a car you've always dreamed of in less time, even if you need a car loan calculator to manage your payments.
Spend Less, Save More
The first rule to be able to afford your dream car is to get comfortable with budgeting. It's essential to closely track all your monthly expenses and revenues. If you don't have a budget, now is the time to get one in place. With a budget, you can create a monthly plan for what you save, and what you spend, bringing you closer to that new car.
A budget will help you to understand your expenses so you can cut off some of the costs that you don't need. If you want to own your dream car, you will have to spend less and save more. Set aside money every month to be able to afford your new car in the long-term. With close attention to your budget, you may be able to save a lot of money.
Invest Your Money
Next, you will need to make the most of the money that you are saving. You should think about the different options for you to increase your savings by making profitable investments. Your savings alone will likely not be enough to help you to afford your dream car, so you will need to generate more income.
You could make investments in financial markets. If you are not well versed in investing, you should stick to investing in low to moderate risk securities. Start by investing between 10 and 20% of your savings. Over time, you can invest more of your savings and consider higher-risk investments to earn higher returns, as you get savvier in investing.
This way, your money will grow. By the time you're ready to buy your car, you'll have more funds than you would from savings alone.
Improve Your Credit Score
Your savings and investment returns won't always be enough to afford your dream car, depending on the car that you're dreaming of. If this is the case, you may have to consider other options. Stick with reliable options, like bank loans or a hire purchase agreement to help you. For most people, a dream car is much more expensive than a standard car. This means that you might have to rely on financing options to afford it. However, it's not always an easy task to acquire those funds.
You will have to have a good credit history. If your credit score is bad, you won't be able to access as many finance options. Instead, you can expect fewer options, high-interest rates, and lower amounts of funds available. You will need to work on raising your credit score by paying off your monthly debts on time every month, getting a credit card (which you must use responsibly), and paying down old debts. Gradually, with hard work, your credit score will rise and you will have more financing options available to you.
Apply For Alternative Financing
If you're still a long way off from being able to afford your dream car, even with savings, investments, and financing, there are some ways that you can speed up the process to help you get there sooner. There are a lot of options today to help you acquire fast cash. If you need to, you could opt for alternative finance options, such as pay-day or salary loans, auto loans, car title loans, and more. These alternative modes of financing are often cost-effective and require less paperwork, but should be considered very carefully. Before borrowing any money, do thorough research and make sure you understand what you're agreeing to.
You can borrow a higher amount of money at a lower interest rate, under flexible repayment schedules with many of these options, making them a more attractive option for some people than more traditional routes of borrowing. Alternative financing options have emerged separately from traditional financing options, and best suited to acquire favourable loan terms.
Enter Online Car Competitions
It might sound like a strange method, but if you really want a particular model of car, then you could try your luck in getting one by entering online car competitions. Car competitions give you an equal opportunity to win your dream car that you would never be able to afford otherwise. All you have to do to enter competitions like this is buy a ticket and enter online. Your entry gives you a chance to win a high-end car, such as a BMW, Porsche or Range Rover. The more competitions you enter, the more chance you have of winning the car.
However, make sure you are paying attention to how much you're spending. If you're entering several car competitions a month, add up how much this costs you. If you put this money into a savings account instead, would you be able to save for the car instead of hoping to win it?
Buy A Used Car
Does your dream car need to be brand new, or would you be happy with a used model? The value of a car drops very rapidly as soon as it leaves the dealership, so you could save a lot of money by buying a car that is still only a few months or years old. Keep an eye out for your dream car coming up in private sales, with used car dealers, or at auction. You may get lucky and find one in good condition with reasonable mileage.
If you do spot your dream car at a good price, do your homework first. Make sure you have the vehicle inspected so you can avoid any nasty surprises. Make sure it's in good condition and has been well looked after. This inspection should be thorough inside and outside.
Keep an eye out for a car that has been extensively modified. Modifications are especially popular on some models of luxury sedans, and these are best avoided. Extensive changes can hurt the resale value or lower the car's performance. Common changes include computer chips or tunes, especially on turbocharged or supercharged models, which are designed to increase engine power. Suspension modifications to lower the vehicle, and oversized wheels are also popular. Know what you're looking for.
Whichever method or combinations of methods you decide is best for you, make sure you do your research first. It's important to be smart with your finances so you understand what you're agreeing to, what the overall costs will be, and what the impact on your credit rating will be. Know the car you want to buy, and know what you're looking for to make sure you're buying a vehicle that is genuine, in a good state of repair, and worth the asking price. Make sure you also consider the cost of running a luxury car. If you've worked hard to be able to buy a car, you want to be sure you can comfortably afford the running costs of this car, so you can actually enjoy it and drive your dream car.