Posted by admin at 16 December 2020, at 12 : 32 PM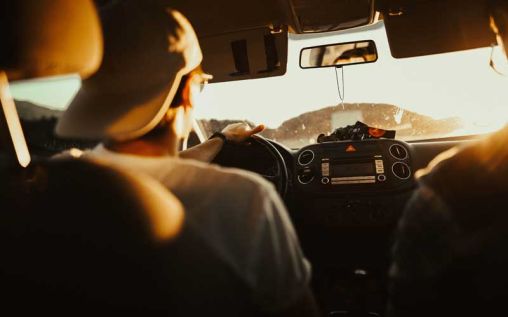 When you get behind the wheel, you're responsible for your safety and the safety of those in the vehicle with you. It's also your responsibility to drive safely and conscientiously for others on the road. One of the biggest factors in road safety is having a clear vision and if you're someone who needs to wear glasses behind the wheel, then it's something you should take seriously.
Here we'll explore the importance of wearing glasses behind the wheel, with some important facts about your glasses that all motorists should know.
Sunglasses are essential
It's easy to think that we only need sun protection in the summer months, however, despite the plummeting temperatures, the sun is still incredibly powerful and dangerous. Low winter sun is just as glaring and dangerous as the bright summer sunshine. So, always ensure you have a pair of high-quality sunglasses available when you're behind the wheel. You'll find a range of stunning sunglasses here at EyeBuyDirect.com. Available in a wide range of colors, shapes, styles and materials, you can get the UV protection you need, with the style you want, at the prices you love!
Keeping your prescription updated is key
As mentioned above, one of the biggest factors in road safety is having clear vision. So, keeping your eye prescription up to date is essential. Visiting an optometrist should be something you do at least once a year, however, there's no reason why you can't update your frames before then. You'll find a wide range of stunning frames available online. Shopping for your new frames from the comfort of your own home means you have access to a vast range of styles and colors and even designer brands. You'll be able to find the frames that suit your lifestyle, whether you're an active person or you spend a lot of time behind the wheel!
You could invalidate your insurance without them
If you are legally required to wear glasses behind the wheel, then failing to do so could mean invalidating your insurance. So, if you find yourself caught up in an accident whilst driving, you could have little or no insurance protection. The last thing you want is spiraling medical bills, car repair costs and legal fees to contend with!
Always keep glare in mind
If you're someone who needs to drive at night, then you're probably familiar with the risk of glare from headlights reflecting off your glasses and obstructing your vision. If this sounds familiar, then you don't need to take risks. When you update your frames, consider updating your lenses with anti-glare protection. This simple change to your glasses will increase your confidence and your safety on the road.
And finally, not wearing them, could cause an accident
If you need to wear glasses to drive, then you should do so. Even if you're only driving a short distance, or traveling on familiar roads, leaving your glasses at home or untouched in their case means you're driving dangerously and you're more likely to be involved in a car accident. Always have a pair in your car!