Posted by admin at 14 February 2023, at 09 : 59 AM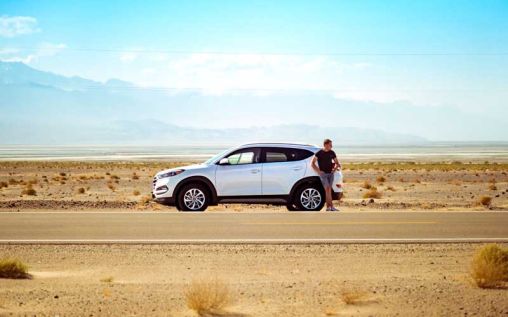 Your car breaking down is one of the most common car problems you might have to deal with on the road. There's nothing worse than your journey being interrupted by an accident or a mechanical failure, leaving you stuck by the side of the road.
However, if you know what to do, you can handle any situation. Here are some tips to help you cope with a car breakdown.
Be Prepared
Handling an emergency like a car accident or breakdown is far more feasible if you're prepared beforehand. This preparation should start well in advance. Even if you never end up in the worst-case scenario, being prepared can give you peace of mind.
One of the best ways to be prepared is to keep an emergency kit in your car. An emergency kit contains everything you need to manage if your car breaks down so that you have less to worry about.
This includes a first aid kit so that you can deal with any injuries, as well as blankets to keep you warm and, ideally, some emergency water to keep you hydrated. It can also be handy to keep things to help you complete minor repairs on your car, like a spare tire, a jack, and other tools that would allow you to change a tire.
If you're traveling on dangerous or isolated roads, then an emergency kit becomes even more important. You should be prepared for a lack of mobile signal as well, and make sure that someone knows where you are and when you should be reaching your destination. This makes it easier for emergency services to find you.
Safety First
In the event of a breakdown or crash, your first priority should be safety. If possible, move your vehicle to a safe area. Check yourself and anyone else who was involved for injuries. You should call emergency services or breakdown services as soon as possible so that anyone can be treated and the scene can be secured and made safe. Turn your hazard lights on so that other vehicles can see your car clearly.
Depending on the situation, it may be safer to either stay in your vehicle or to get away from it. If your vehicle is in the middle of the road and you can't move it, then get somewhere safer. You should also get out of your car if it's smoking or otherwise a clear danger.
However, sometimes you're better off staying in your car. Your car can act as shelter and protection in dangerous areas or cold weather. If you have to wait for a long time, then your car can keep you warm and dry, as well as safe from any wild animals in the area.
Retrieving Your Car
One of the first services to contact would be a roadside assistance company or a tow truck. They can take you and your car to a nearby auto-mechanic garage so that you can identify the problem and get it fixed up. Sometimes your car can break down due to a small, simple issue, which means that you can get back to your normal life as soon as possible.
In some cases, the breakdown is more serious. Depending on what caused the incident, your car insurance may cover the repairs. You might also need to hire a courtesy car to get around while your vehicle is being repaired.
Preventing Breakdowns
There are a variety of things that can cause a breakdown. Some issues are annoying but minor and easy to fix. For example, if your car runs out of fuel or the battery runs low, you'll be stranded but your car should be okay to run once you get the problem sorted out.
However, your car may have broken down due to a more severe mechanical failure. An issue that seems minor to begin with can also lead to more serious problems if it goes ignored for long enough. Even running out of oil can lead to overheating and engine damage if you continue driving with a dry engine.
The best way to reduce the chances of your car breaking down is to get it regularly checked out by a mechanic. They can diagnose any problems that your car has or may develop and fix them before they cause a major issue or any further damage. This saves you time and money in the long run, as you're less likely to break down and require more expensive and extensive repairs.