Posted by admin at 19 September 2014, at 21 : 09 PM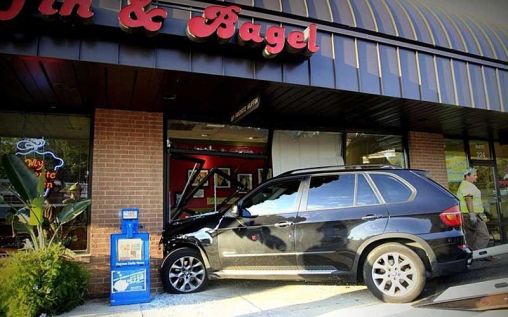 Not so long ago, a BMW X5 driven by a man crashed into a house. Yesterday (Thursday evening), a BMW X5 driven by a woman with a passenger, a baby on the rear seat, crashed into a building that is known as a muffin shop in Centerville, Ohio.
Two people inside the muffin shop were injured and were taken to a hospital after the incident. None of the injuries appeared to be life-threatening.
The woman crashed into a building because she mistakenly hit the gas pedal instead of the brake. Both people, the woman and the baby, weren't injured.
The BMW X5 doesn't look like it's damaged badly. However, we can't say much about the car, because we don't know the real damage to it.
It's not the first time a car has hit a building. The gas and brake pedals are both meant to be used correctly. Use both of them correctly!