Posted by admin at 25 March 2015, at 21 : 50 PM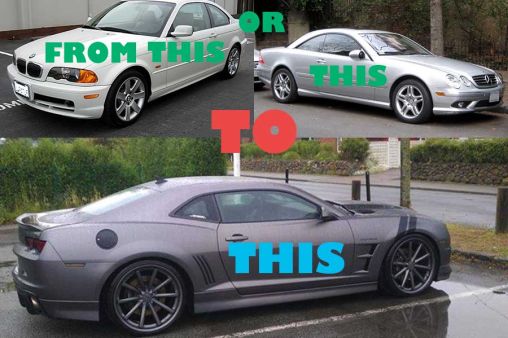 Would you like to transform your current BMW E46 or Mercedes-Benz CL-class (1999–2006 years) into a Chevrolet Camaro – an American muscle car? If the answer is yes, we have good news for you!
The Bulgarian company "RCI Tuning" has made some really good looking replicas already — Yes, they are all just replicas, but we have to admit that all look quite nice even if all of them are just "cheap" copies aka replicas; a BMW E39 into F10, a BMW E36 & E46 into a 4-series F32 & F82 M4, and more…
Now, they can convert your BMW E46 into a Chevrolet Camaro for around 12,500 Bulgarian Levs, which is equal to around 7000 USD ($). They can also convert your Mercedes-Benz CL-class (1999–2006 years) into a Camaro, however, we don't have the exact price for this transformation. The price shouldn't be higher than 15,000 Bulgarian Levs, which is no more than 8.4K USD ($).
As usual, the prices are for the body kit only. I am sure that you can buy a whole Chevrolet Camaro replica too (they're offering such solutions with other replicas already), but the price would be higher (price depends on a donor car).
They claim that they can transform a BMW E39 into F10 in about 2 weeks, so for the Camaro transformation it should be about the same…or more…
Again (we said this on our previous introduction, and we say again…), is it worth the money and time for such a transformation? Only you can answer that question. A lot of people like these transformations, others dislike them.
Notice: The BMW E46 and Mercedes-Benz CL-class in the picture at the top are just sample models. These models aren't transformed into that Camaro at the bottom (the same picture). The Camaro is also an example of how a car would look like after such a transformation — The company has made some real replicas already, and we also posted about some of them on our site already, with real replicas included. So yes, the transformation is real and very possible to anyone who has the money and is ready for it.