Posted by admin at 25 November 2020, at 09 : 49 AM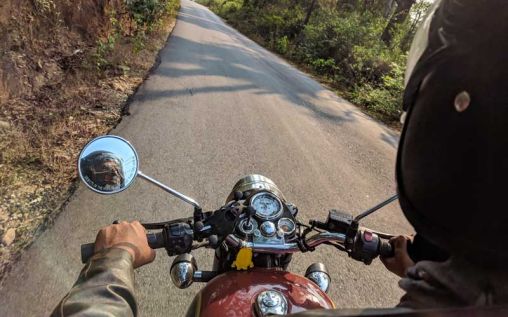 If you have never bought your own motorcycle, you might be overwhelmed with choice. Buying a motorcycle is a lot like buying a car, but the criteria for safety, longevity and performance are different to a car. Buying a motorcycle requires careful research and planning – so in this blog you'll find the first steps you should take when buying your first motorcycle.
Why Buy A Motorcycle?
A motorcycle is an awesome alternative to a car for many individuals. They are cheaper to run than a car, plus they require less maintenance, and let's face it, they're pretty cool too. Motorcycles are a great way to get around for an individual or couple who don't need the hassle of a large car weighing them down.
What Should I Consider When Buying My First Motorcycle?
As a first time buyer, there's much to consider. Here is a list of things you must take into account before choosing a make and model of motorcycle.
1. The type of driving you will be doing. If you are buying a motorcycle as an alternative to a car, i.e to drive daily for work and leisure on roads with other vehicles, the requirements will be different than if you are buying one purely for offroading purposes.
2. Your experience. Although you're a first time buyer, you might not be a new rider. If you are experienced in riding motorcycles, you will be able to handle a larger, more powerful motorcycle than a totally inexperienced motorcycle driver. Make sure to factor in your level of experience before you buy. You wouldn't buy a Maserati as a first-time driver, and the same rule applies to motorcycles.
3. Your budget. Before you start shopping around and contacting dealerships, make sure you have your budget firmly laid out. This should not just factor in the initial cost of the vehicle, but should include your insurance budget, gas, maintenance and equipment (such as leathers) too.
4. Your approximate mileage. The average miles your bike will drive per week will determine the quality and age of motorcycle you should be buying. If you plan to travel long distances, you need a motorcycle which is able to do so without being worn down very quickly, requiring a replacement in just a few years.
5. Safety. Before buying a motorcycle for the first time you should consider your safety. Owning a motorcycle is great, but it is a hell of a responsibility. Driving at speed among cars puts you at risk if you do not pay greater attention to your surroundings and drive carefully. Weaving in and out of traffic or attempting dangerous overtakes can put you in danger, so make sure to consider your willingness to go the extra mile for your own safety and the safety of others. If you are involved in a motorcycle collision, your insurance claim and police report will pay close attention to the fact you are driving a motorcycle. For this reason, you will need a motorcycle accident attorney to represent you in such cases.
New or Used?
This is the question on the lips of most first-time buyers. A brand new motorcycle is obviously more expensive than a used one, but will, as a result of its newness, last longer than a used vehicle. In addition, the insurance on a new and up to date vehicle may lessen in comparison to an older model which is not as ergonomically or structurally sound as more contemporary versions.
However, a used motorcycle is a perfectly fine choice for buyers who aren't interested in bagging the latest version of their favorite bike. Plus, a used model can be more cost-effective, as they are often still available on finance and/or lease.
A used motorcycle doesn't necessarily mean a poor-quality motorcycle, as long as you source it from a reputable dealer who can provide all its necessary paperwork, maintenance guidance and test drive. The history of the bike should be fully available with no smoke and mirrors, and any issues that it has had in the past should be transparently given to you, the buyer, without hesitation. These criteria will show you that the dealer you are working with can be trusted. If there is any hesitation, omittance of information or too-good-to-be-true sales pitching, then steer clear of this dealer.
Final Thoughts
Motorcycles are a great way to get around, providing a more eco-friendly, easy to store and ergonomic alternative to owning a car. Make sure to use this helpful guide if you are a first time motorcycle buyer!