Posted by admin at 25 November 2020, at 10 : 36 AM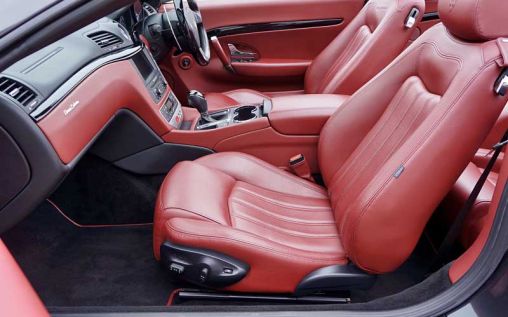 Leather upholstery is one of the best interior upgrades for your car. It's comfortable, it gives you a luxury feel, and it increases the resale value of the car. But leather seats require a lot more maintenance than other materials and if you don't look after them properly, they will soon start to crack and dry out. If you want your leather seats to last for years to come, you need to have a good care routine in place. These are some of the best ways to extend the lifespan of leather car interiors.
Keep Them Clean
First and foremost, you need to keep the interior clean if you want your leather seats to stay in good condition. When cleaning your car, make sure that you don't neglect the interior, and you follow the right process for cleaning leather seats.
Start by vacuuming the seats with a soft brush head, so you don't risk scratching the leather. The more dust and dirt you can get out with the vacuum, the easier it will be to clean the seats. Next, you need to clean the seats using products that are specifically designed for leather seats.
Ideally, you should look for a 2 in 1 product that conditions as well as cleans the leather. This will stop it from drying out and prevent any cracks in the future. Before you use a new product, always do a small spot test to make sure it doesn't react with your seats. Once the spot test is done, clean the seats carefully, making sure not to spray product directly onto the seats. When the product is applied, the seats will look dull.
Let it sit for a few moments and then use a clean cloth to buff the seats until they are shiny.
Tint Your Windows
The sun can do a lot of damage to leather seats over the years and cause them to fade, so it's important that you protect them from UV rays. The easiest way to do this is window tinting for your car. A dark tint will block UV rays and prevent damage to your leather seats. It's also a good way to increase privacy and it's a stylish upgrade for the car as well. The best thing is, it isn't an expensive upgrade to make, so if you have leather seats, it's definitely a worthwhile investment.
Fixing Tears And Cracks
No matter how well you look after your leather seats, you may still get cracks and tears. The good news is, these can be repaired with a leather seat repair kit. Start by cutting away any uneven edges, and then place the backing material in the gap. Then, you can use the leather filler to start layering on the top. Once it is dry, it needs to be sanded back before the color is applied, and your leather seats will look good as new.
If you follow this basic care routine, you can keep your leather car interior in perfect condition so it lasts for years to come.