Posted by admin at 21 February 2021, at 22 : 55 PM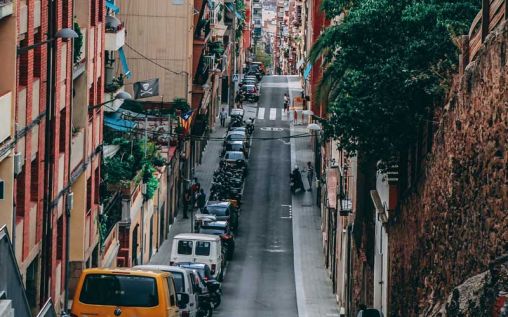 Full of diversity and history, Spain is an ideal country to explore in a car. It has two coastlines that are sandy, bordering the sunny Mediterranean Sea and the Atlantic Ocean. It also has a large network of motorways and main roads covering the 4 cardinal points – North, East, South, and West.
However, if you want to truly discover Spania, it is best to drive along some minor roads. That is the best way to enjoy the regional surprises like Cuenca's hanging houses, Andalusia's whitewashed villages, Alhambra's Moorish palace that crowns the old quarter in Granada, and Merida's towering Roman temple.
So, if you're planning on visiting Spain, you might be torn between car renting or touring with a public vehicle. Well, almost everyone will choose to have their own means of transportation, so they can explore more than public transportation will allow. Therefore, in this article, we will discuss some tips for car renting.
Car Hire vs Car Rental in Spain
Let's begin with a lesson on the right terminology for renting a vehicle in the country. Although it may be easy to rent a car, you probably have searched for car rentals on the internet. Americans will typically type things like "Vehicle Rental in Spania" or "Best Vehicle Rental Deals in Spania".
Well, you must know that there are more Brits touring the country than Americans. Therefore, you're likely to get accurate web results when you search using the British style like "Vehicle Hire in Spania" or "Spania Vehicle Hire".
Automatic vs Manual
For manual (stick shift) transmission drivers, driving in Spain will not be a challenge because most cars here are manual transmissions. However, if you are an automatic transmission driver, you have to learn about the stick shift transmission before traveling. It is not difficult, and you will save money driving yourself. Also, renting a vehicle with automatic transmission is quite costly.
The Size of Car You Need
Many tourists need cars that are big enough to accommodate the entire team and their luggage. However, you must consider the destination as well as how wide or narrow the roads are. Since you will move about in Spain, the roads are small, and this calls for small, stick shift cars.
Furthermore, if you want to drive in the bigger cities and main highways, you may not have a problem with getting a big vehicle. But if you plan to tour interior parts of the country and smaller villages, you do not need to rent a big vehicle.
Most of the side roads can accommodate one car. However, they are supposed to be 2-way streets. That's how the old villages are because they did not have a future plan all these years. Some roads were based on herding or old walking paths. You do not want to bear the costs of the bruises and bumps when returning your rental therefore bear this in mind.
You may consider renting a multiple-purpose vehicle (MPV). It is like a Citroen Berlingo or Peugeot Partner. It has enough space to accommodate five passengers as well as a large space for luggage. The vehicle is like a minivan and it's not too big to move around streets in Spain.
Car Insurance
Most people ask if they need to get car insurance for a rental in Spania. This is applicable in almost every location including Spain. When you drive around the country, you might see a lot of cars that are banged with scratches and dings. These are the results of careless driving or the narrow roads.
However, you can get fairly inexpensive auto bodywork within the country. This is what most people do because it is cosmetic and another accident is bound to occur again. The rear or front bumpers or the rearview mirror is usually the most affected part. But you can still study your insurance policy so you can decide the best option for you.
Here are a few things to note about car insurance in Spain:
1. Full Coverage
The full insurance coverage that rental companies offer is usually almost the same as the cost of renting. Most of them charge a maximum of €180 or thereabout, but it's about €10 per day or even more. Therefore, you must ensure there's no deductible, what Spaniards call "excess".
2. The Insurance Type
Most companies include compulsory coverage for cars, third-party, and vehicle occupants in their fees, in accordance with the updated legislation. You may also get a waiver for theft and collision damage (CDW) with the additional fee included.
3. Excess Fee
This is the maximum amount of money you will pay if the car is damaged. The company often places pending fees ranging from €800 to €3000 on the client's credit card as "excess". As soon as the car returns undamaged, the fee will be taken off the card. However, if any damage occurs, the company will deduct the cost of repair.
4. Waiver for Collision Damage (CDW)
Most times, this option is provided automatically when you hire cars in Spain. However, it is basically insurance for accidents, and it attracts a huge deposit. This will cover any possible excess or deductible.
5. Insurance Coverage on Your Credit Card
Some credit card firms will inform you that you can decline insurance with proof. If you prefer using this as coverage, you may want to study the T & C's properly. You can also call the company, so you can get clarity on what items are covered, the duration of the rent, the rental location, and any other thing that may be needed if there is any claim. These are the things that will keep you from worrying when you rent a vehicle in Spain.
The Fuel Policy
This is an interesting aspect of hiring a car and it is important to request a fuel policy before renting. Some companies will offer a full fuel tank that must be returned empty; they might charge for the fuel. On the other hand, other companies will give a full fuel tank that must be returned full. Let's discuss both options.
1. Pay for What You Use
This may sound easy as you do not need to bother about looking for a gas station when returning the car. In this category, when you rent the vehicle, you will get a full gas tank and you have to return it empty. However, when checking out, the company will charge for the gas, at a slightly inflated cost than the normal rate within the town.
This is because they add a service fee or the cost of refueling in the rent. Now, this will vary based on the type of car and the size of the gas tank. Also, if you come back without using up the entire gas, you will get a refund up to one-eighth of the tank. But do not expect them to refund the refueling or service fee or refueling cost.
2. Receive Full and Return Full
In this option, the company will give a full gas tank and you must return the vehicle the same way, too. We are not certain about why they have such policy, but several companies charge a daily rate at a slightly inflated cost using this option. The whole idea seems like they want clients to buy the initial gas and they charge a fee if the tank does not return completely full.
Considering both options, it is important to verify what the rental company charges before using their services. You may want to read this article to find out other things to consider before choosing a rental service.
Conclusion
Touring a destination in a private car offers a lot of convenience compared to public transportation. However, before choosing a renting service in Spania, you must be sure of what the company is offering to avoid paying excess.