Posted by admin at 8 October 2020, at 06 : 01 AM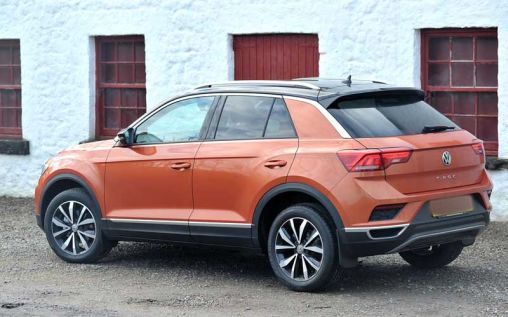 Looking for a car that's bigger than a hatchback, but smaller than an SUV? Compact crossovers are the perfect middle ground between the two. You can take the kids to school with them, pick up DIY supplies from Home Depot in them or simply go for a city cruise. They're incredibly versatile vehicles.
These vehicles have been popular in the US since the '00s. In the last decade, they've also taken Europe by storm. It's easy to see why they have such an appeal – below are just some of the reasons why they make great cars.
Space
Compact crossovers are a lot more roomy than regular hatchbacks. Their trunk space is much bigger and makes them ideal for carrying buggies, large amounts of luggage or bulky tools. They also have ample amount of passenger space, often allowing room for three people to sit comfortably in the back. They're popular family cars for this reason.
Fuel economy
Due to being lighter than SUVs, compact crossovers often have better fuel economy than their larger counterparts. They're also not built to lug as much weight as SUVs, further contributing to their fuel efficiency. Consequently, you won't be filling up for gas too often. Some compact crossovers have even been found to be capable of up to 75.8mpg.
Handling
Compact crossovers are also better at handling than SUVs due to their reduced weight and more compact build. If you often need to negotiate narrow streets, you could find that these cars are a lot easier to drive than SUVs. They tend to also have shorter stopping distances and smaller turning circles. Most compact crossovers aren't made for going off-road, so bear this in mind.
Cost
Another benefit of compact crossovers is their price. Brand new crossovers are on average a lot cheaper to buy than brand new SUVs. This is because they cost a lot less to build. On top of saving money on the purchase price, you could also save a lot of money on fuel when buying a compact crossover, as well as spending a lot less money in insurance than you would with an SUV.
Safety
Compact crossovers are also very safe cars. They have a higher seating position than hatchbacks which allows the driver to see more of the road. They also tend to adopt the latest safety technology such as driver-assist systems and visible LED headlights. If you have kids, such safety features could be important to consider.
Examples of compact crossovers on the market
Most major car manufacturers have their own compact crossover model. Some have been going for years, while others are fairly new. With so many of these cars to choose from, it can be difficult to know where to start. Below are just six popular examples and the perks of each particular model series.
Volkswagen T-Cross
When creating the T-Cross, Volkswagen aimed to create an SUV modelled on the Polo. The result is a crossover that looks small on the outside, but big on the inside. In fact, the T-Cross is one the roomier crossover options available on the market with a lot of passenger space and a wide square boot that's capable of storing lots of stuff. An infotainment system can be found in newer models with a host of easy-to-use and responsive features (Volkswagen arguably have one of the best infotainment systems out there). The T-Cross is available in low engine sizes helping to make it an affordable choice for those on a smaller budget.
Renault Captur
The Renault Captur is one of the more stylish compact crossovers on the market. The latest models come with cool C-shaped LED running lights and large alloy wheels that give it a vaguely sporty feel. The Captur also boasts a huge trunk measuring 536 litres with the seats pushed forwards (that's enough to match some SUVs). When buying new, there are a number of gearbox and engine types to choose from, including an upcoming hybrid model. This wide range of variants is definitely a perk.
Ford Escape
The Ford Escape is a compact crossover model that has been sold by Ford since 2000. It has seen a number of revamps over that time and its latest models have consistently stayed ahead of the curve. For instance, its 2020 model available at Riley Ford Inc is already available in three hybrid and three plug-in versions. Drivers can also choose between a multitude of driving modes for tackling different weathers and terrains. The interior meanwhile is spacious and comfortable with a snazzy infotainment system included.
Nissan Juke
If you want a more quirky-looking compact crossover, the Nissan Juke could be the answer. With its bold circular headlights, v-motion grille and contrast-colour 'floating' roof, the Juke definitely has a distinctive look, which has charmed many people into buying it. Of all the compact crossovers on the market, the Nissan Juke used to be one of the least practical (as this Car Wow review states). However, newer models offer a lot more space and comfort, making them a much more worthy purchase.
Toyota Rav 4
The Toyota Rav 4 was the first compact crossover ever to exist – its first model was launched all the way back in 1994. The Rav 4 has come a long way since then and still regarded as one of the top compact crossovers on the market. The latest model is hybrid as standard and has a huge amount of passenger space. Visually, it's also very eye-catching – it's got a unique jagged appearance to its exterior that is contrasted by a sleek and smooth interior.
Seat Arona
Last but not least, there's the Seat Arona. A late arrival to the compact crossover party, the Arona has quickly proven itself to be a worthy adversary. It's a bit pricier than its rivals but is also a better all-rounder – it offers good handling, top-notch infotainment, superior comfort and a lot of interior space. It's also a very classy and stylish-looking car. It's the ideal choice for those with a bigger budget.